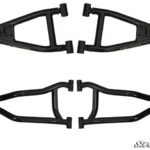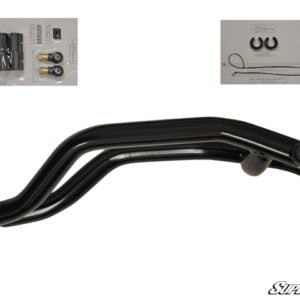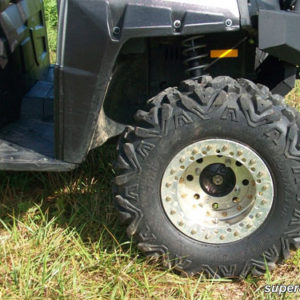 SUPER ATV HIGH CLEARANCE 1″ FORWARD OFFSET A-ARMS SET POLARIS RANGER
$

580.99
–
$

1,194.99
Prices in CAD
FEATURES
Adds 1.5" of forward offset
Fit up to 28" tires
1.25" tubing is 25% larger than stock
Adjustable pivot blocks for full camber adjustability
Utilizes stock A-arm bushings
UV-resistant powder coat finish
Easy to install
Backed by a lifetime warranty
POLARIS
RANGER 500 FULL SIZE
RANGER 6X6 800

2010
2011
2012
2013
2014
2015
2016

RANGER 700
RANGER CREW 800
RANGER CREW DIESEL 900
RANGER DIESEL 900
RANGER XP 800
Orders received before 3pm MST will ship out that same day, providing the product is in stock.
Please note that our courier doesn't ship to PO box addresses.  Please provide a physical shipping address.
Loomis is our courier of choice.  You will receive a confirmation email with tracking info from Loomis when your product ships.
UTV Canada is not responsible if an order takes longer than expected once shipped. Shipments may take longer to arrive during peak season due to the influx of shipments made by the courier. 

Due to the COVID 19 pandemic, carriers are experiencing higher than normal shipment volumes and growing challenges. Please be patient as your shipment may take an extra few days to arrive. 

Shipping is a daily flat rate.  The rate and time depends upon the region in which you live. See chart below.
The only exception is if the item is oversized, as determined by the courier company.
If an item is oversized, we will notify customer with shipping freight quote.
| | | |
| --- | --- | --- |
| Region | Time in Business Days | Daily Rate for Standard Sized Products |
| AB & SK | 1 Day | 13.95 |
| BC & MB | 2 Days | 13.95 |
| Vancouver Island | 3 Days | 13.95 |
| ON & QB | 3 Days | 17.95 |
| Northern QB | 5 Days | 17.95 |
| NB, NS, & PEI | 5 Days | 19.95 |
| NL | 8 Days | 19.95 |
These A-Arms Won't Let You Down
It doesn't matter where, when, or how you ride—we can all agree on one thing: more ground clearance and a stronger suspension is always a good thing. That's exactly what you get when you install SuperATV's High Clearance 1" Forward Offset A-Arms on your Polaris Ranger Full-Size 500. Our A-arms are bigger and stronger than your stock arms, so you'll never have to worry about taking it easy for their sake. The 1" forward offset give you more stability and room for bigger tires, and you can even adjust your camber as needed. If you want a suspension upgrade that's built to perform and won't let you down, you need SuperATV.
More Clearance and Bigger Tires
We design these control arms with a unique bend design that gives you 2" of additional ground clearance, so you can clear those obstacles that used to take you down. As if that weren't enough, they also have a 1" forward offset. By extending the wheelbase 1", you get more stability when crossing rough terrain. A forward offset also gives you room for bigger tires. More ground clearance and bigger tires without even adding a lift kit? We'll take it!
A Stronger, Smarter Design
These A-arms come in a sleek, tubed design that really helps your Ranger stand out in a crowd. In addition to looking awesome, our A-arms are also super strong. We use 1.25" tubing, which is 25% stronger than stock, and then add a powder-coated finish to make it last even longer. From the materials to the design, SuperATV's High Clearance A-Arms are made to keep you riding longer.
You don't have to take our word for it, though—our lifetime warranty speaks for itself. The SuperATV team will always have your back with this product, so you can push it as hard as you want.
Industry-Leading Adjustable Pivot Blocks
Our use of industry-leading adjustable pivot blocks allows you to adjust your alignment and maintain perfect camber, no matter where or how you ride. Being able to adjust your camber as needed can eliminate the premature tire wear that usually comes along with adding a lift kit or bigger tires. If you don't want to mess with your pivot blocks, don't worry! We pre-adjust them to stock specifications right out of the box, so you only need to make adjustments if you want to.
FITMENT
Polaris Ranger XP 800 : 2010-2014
Polaris Ranger XP 800 Crew : 2010-2014
Polaris Ranger 800 6×6 : 2010-2016
Polaris Ranger 700 : 2009
Polaris Ranger 900 Diesel Crew : 2012-2014
Polaris Ranger 900 Diesel : 2011-2014
Polaris Ranger Full-Size 500 : 2009-2010