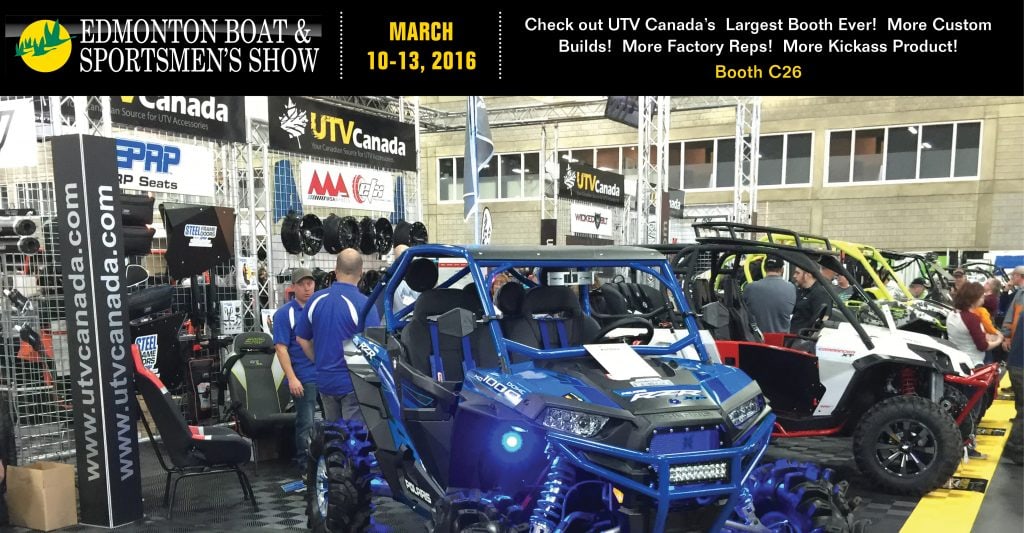 Well the clock is ticking and we are less than a week before the Edmonton Boat & Sportsmen's Show opens.  As most of our Western Canadian Dealers know, this is the show where we blow our brains out bringing in as many of our manufacturer/suppliers for this event and filling the booth with as many really cool SxS custom builds as we can. This year we will have 10 units on display featuring a ton of product we represent ranging from pure sport to pure utility. These units also feature a lot of product from attending suppliers, and I'm pleased to say that we have quite a few new attendees this year!
Suppliers in attendance this year are as follows:
These guys travel a considerable distance to be here for this show and look forward to meeting as many of our Dealers as they can to tell you what new and exciting products they have for the upcoming year. If you haven't seen the invitation or received one yet, here is the lowdown on what is in store!  For the first time ever we are putting up a trip for 2 to Mexico, including accommodations, in a draw for those of you that make it around to see all of our suppliers. Your odds of winning are incredible with typically only about 100 or so Dealer staff visiting throughout the show.  And for every order you place over $2500.00 at the Show, it gives you another entry for another shot at winning this trip! The opportunity to win is only available to our Dealers and their staff, not the retail public.
I really have to thank our forward thinking and positive participating Dealers that have worked with us to build the custom units we will have on display, especially in light of the economic climate we are all currently dealing with.
This year we will have what I will call a couple of "novelty" units, Tyler Backus from Backus Racing in Sicamous, BC will be bringing the RZR XP1K that he last raced this past November in the Baja 1000. We co-sponsored Tyler on this build and look forward to seeing the unit. Rounding out the units on display will be the "Xpedition Build" that we did with Dirt Trax TV. This build started as a Maverick Max Turbo and was transformed into the beauty that it is now. If you haven't seen it on Dirt Trax TV or in their magazine, you really need to stop by and see this ride.
I know I'm getting a little long winded, but in closing I'm here to tell you that we do these shows as much for you, our Dealers, as we do them for ourselves. No other Distributor does what we do by attending these shows, working with the suppliers, and building and displaying the custom built units. This Show typically sees 50K+ people through the doors and tons of them come through our booth expecting to see the cool, unique product that UTV Canada has become known for. We are a destination booth for a number of ATV/UTV enthusiasts and will expect to see a lot of the old familiar faces we see each year. We hope to see yours' as well! It will be well worth your time!
Staying Involved, Informed & Innovative!
Reid
---
HAVE YOU SIGNED UP TO GET OUR E-NEWSLETTERS, YET?
It's super easy to do and you'll be the first to hear about sales, promotions, upcoming events, more great blog posts like this, plus so much more.
We call it our UTV Canada Ride Tribe and we'd love for you to join hundreds of other riders who have already signed up, too!