by Colin Gaffney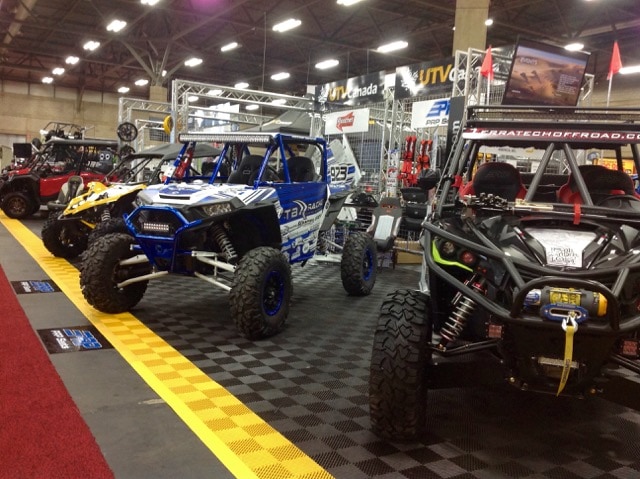 The 2016 Sportsman Show has come and gone and we're calling it a success.  Despite the economic downturn and all of the negativity in the media, attendance was pretty decent, people were buying product and machines and there was a lot of interest in what UTV Canada has to offer.  We found that in 2015, everybody seemed scared of what the future may hold for them, but this year it seems that people have acclimatised to our current reality and realized that life will go on.
UTV Canada didn't shy away from giving it 110% this year.  Not only did we have a bigger booth space with more machines, but we also brought in more vendors to help introduce and represent their products to our Edmonton and surrounding area customers.   I know that we had a handful of people from slightly further locations such as Calgary, Grande Prairie, Lloydminster, to name a few and we are very grateful for your support and dedication to the Off-Road industry.  Not only is the Sportsman Show a fantastic opportunity for retail customers to see what's new and exciting in the industry, but it's also a chance for us to connect with our dealers as well.  We had great conversations with both retail and dealer contacts and introduced them to many of the new products that we have to offer this year.  Some of these new product lines include, Sierra Power Sports, Lucas Oil, Warthog Axles, DragonFire Racing, DFK Cab and Race Driven products.  We are constantly trying to be innovative and ahead of the curve and we are weekly and sometimes daily, adding new parts to our website.  Make sure to regularly check it out to see all of the new products that we have to offer!   We also had some familiar faces here again with companies like PRP Seats, SSV Works, Ricochet Off-Road, and Wicked Bilt products, and we appreciate their dedication to offer our customers the best products to 'Define Their Rides'.    If you're not familiar with some or all of these companies, call me and I'd be happy to tell you about the products that they have to offer for your specific machine.
Were you there?  Did you attend the show this year?  How many of you can tell me the 3 UTV Canada machines that were displayed as eye candy for all that walked by?  We had 10 units altogether that were dressed to the nines to demonstrate the variety and versatility of the parts that we have to offer.
First and foremost, we want to thank all of the dealers who partnered with us to make this show a success.   In my personal opinion, the Ranger 900XP Firefighting Build was the show stopper.  We had Freedom Powersports in Edson provide a SICK looking Ranger 900XP that was completely outfitted as a firefighting build, and the camera flashes were constantly going off all weekend.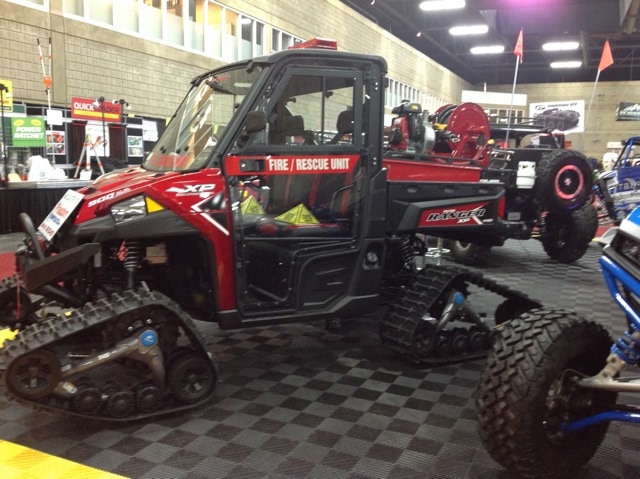 Roger and Keith @ Motion Motorsports in Bonnyville continue to impress with their jacked up Ranger 900XP builds and this year did not disappoint.  With a 6" lift and massive mud tires, there was a steady stream of onlookers checking it out.  Ecko Marine in Alberta Beach, partnered with UTV Canada this year to build a sweet looking Maverick complete with DragonFireaccessories from bumpers to backbones.
Cycleworks West provided us the use of their Super ATV build that made its debut in the Edmonton motorcycle show and customers were checking it out from all angles.  Last but not least Honda Extreme provided a decked out Pioneer 1000-5 that had a lot interest from people that were passing by, it's a great looking machine.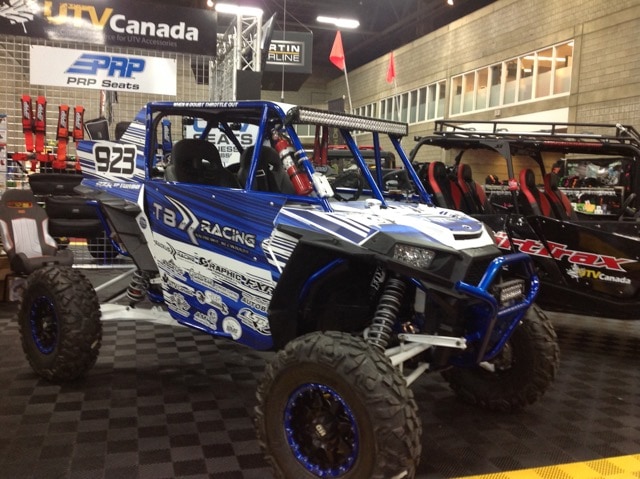 We also want to thank Backus Racing who brought their Turbo RZR1K Race car that had pretty much everybody in the booth throughout the weekend peeking and peering in its cab.   In the fall, UTV Canada partnered with Dirt Trax Television and built a custom expedition style Maverick Max and it is a completely custom one of a kind build that you MUST see.   We had this build displayed where everyone had the opportunity to drool over all of the custom additions that make it the kickass unit that it is. Which builds would you like to see for next year?  Make sure to stay tuned on social media to continue seeing UTV Canada builds, including our Yamaha YXZ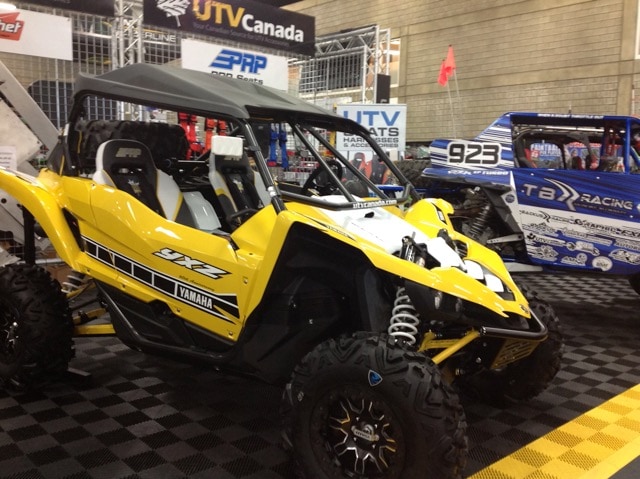 If you didn`t make the show, never fear, we have lots of products available for your machine and we`re stocked and ready to go for the upcoming season.  Make sure to check out our website for the newest products and best deals.  Mark your calendar for March of 2017 and make sure that you don`t miss next year's Edmonton Boat and Sportsman Show.
---
HAVE YOU SIGNED UP TO GET OUR E-NEWSLETTERS, YET?
It's super easy to do and you'll be the first to hear about sales, promotions, upcoming events, more great blog posts like this, plus so much more.
We call it our UTV Canada Ride Tribe and we'd love for you to join hundreds of other riders who have already signed up, too!