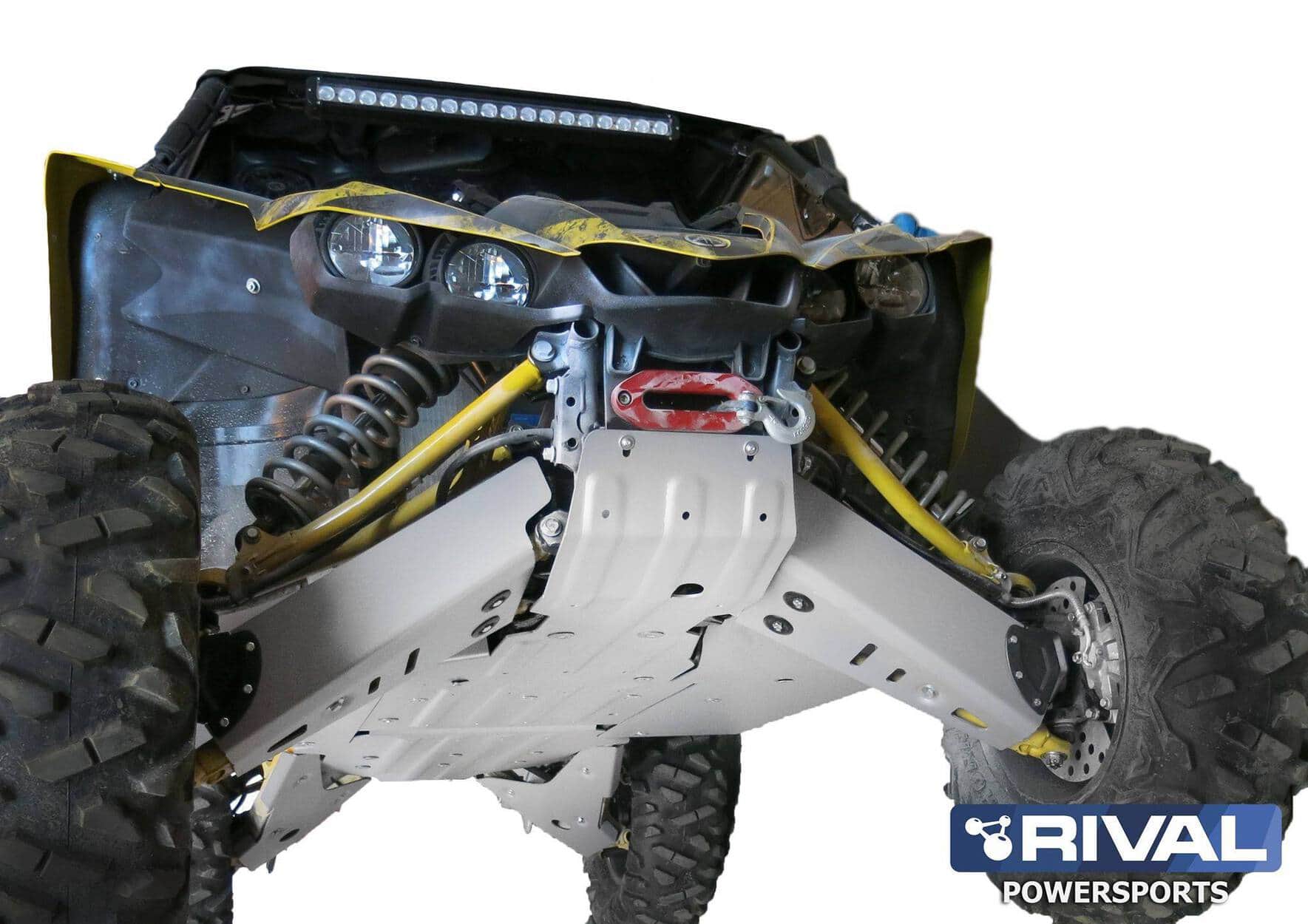 Have you ever wondered why people buy skid plates and other forms of under armor for their machines? Machines come with stock protective plates anyway, so why invest in aftermarket armor? The price alone can be enough to deter you from investigating the need further…until now.
New players have entered the scene, and they`re changing the game. Under Armor protection is suddenly more affordable than you think, and the benefits of the investment far outweigh the cost.
Is Stock Armor Enough?
Stock under carriage armor on all UTVs and ATVs is bare minimum protection. It won`t protect your machine from the majority of obstacles you encounter when riding our Canadian terrain. It's really a matter of when, not if – you`re going to eventually puncture or damage something If you don`t invest in aftermarket protection.
Competition Is Heating Up
RIVAL Powersports is a relatively new player in the North American powersports scene. They offer riders reliable under carriage protection at an affordable price with their collection of skid plates for both UTVs and ATVs.
Currently RIVAL mainly offers aluminum skid plates, however they do have UHMW skids available for select makes and models like the Ranger XP 1000, Can-Am Outlander and a handful of other machines. They're working on building out their UHMW line-up, but no timeframe has been given on when we would see them hit the market.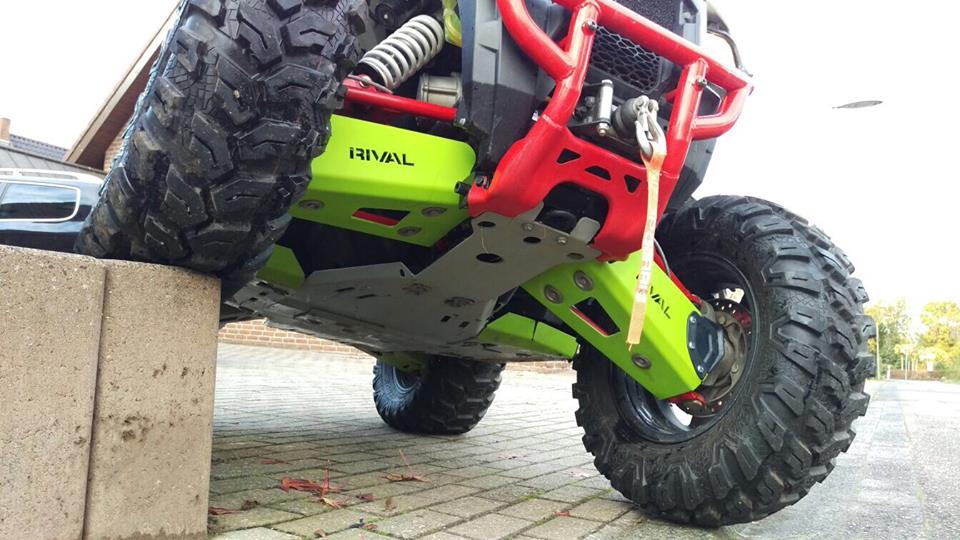 Benefits of Aluminum & UHMW?
You can make a case for both Aluminum and UHMW skid plates. Both do a very good job at protecting the under carriage of your machine. Which one you go with depends on the terrain you ride on and your budget.
UHMW
UHMW slides over obstacles easier because it's a slippery material. It's a softer material, so as soon as you ride over jagged rocks or logs those sharp edges are going to dig into the UHMW and gouge it.
Plastic returns to its original shape when you hit an obstacle, so it doesn't leave you with a ton of dents. However, while the plastic is more forgiving and flexible, you can't easily bend it or form it around smaller parts of your under carriage like you're A-Arms.
Aluminum
Aluminum, on the other hand is very strong, therefore offering better protective coverage for your machine.  It doesn't slide over obstacles as well, and it kinks, dents and creases. So while it looks great to begin with, you will find it looking very used after just a few rides.
Two of Aluminum's biggest advantages are that it's repairable when you damage it, and it's the more affordable option.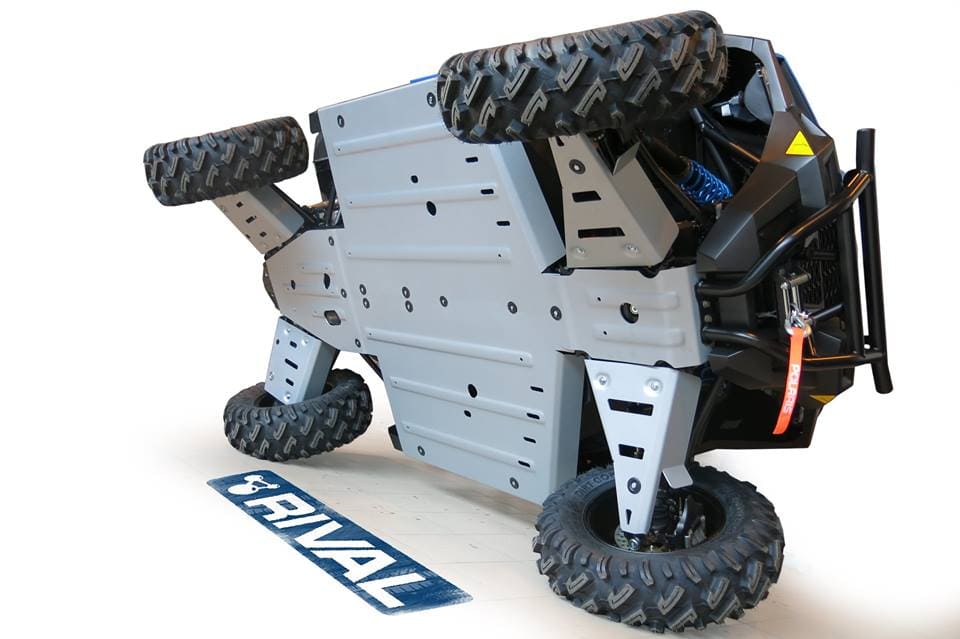 The RIVAL Skid Plate Advantage
RIVAL is all about value – and we love that.
Their skid plates look amazing, and are available for a ton of different machines – both ATV & UTV – at an unbeatable price.
If you're looking to protect your ride without spending a small fortune, then RIVAL Aluminum Skid Plates are the way to go.
Cover Your Ass-et
Don't wait until you've blown through your stock skids, or punctured something that's costly to fix. Take a serious look at protecting your machine and cover your ass-et. Check out our selection of RIVAL Skid Plates at www.utvcanada.com.
---
HAVE YOU SIGNED UP TO GET OUR E-NEWSLETTERS, YET?
It's super easy to do and you'll be the first to hear about sales, promotions, upcoming events, more great blog posts like this, plus so much more.
We call it our UTV Canada Ride Tribe and we'd love for you to join hundreds of other riders who have already signed up, too!