After weeks of speculation, rumours, and hype, Can-Am has unveiled the all-new Maverick R. With performance capabilities like the industry has never seen before, this beast of a machine is looking to raise the bar for performance UTVs. However, opinions on the unveiling have been mixed.

Today, we'll break down the good, the bad, and the (Maybe?) ugly of the all-new Can-Am Maverick R.
The Good
This machine is a beast.
The 240 Horsepower (HP) is a new high in the UTV market, beating out this machine's competitor, the Polaris Pro R, by 15 HP.
The 999T Rotax 999cc turbocharged inline three-cylinder, four-stroke, fuel-injected engine promises to deliver more power more efficiently than ever before.
The dual-clutch transmission (DCT) will allow riders to shift rapidly to higher gears quicker. You can do electronic shifting on the fly. You can drive a Maverick R in automatic, giving you a fast, seamless ride, or you can switch it to manual if you're looking for even more control of your ride. Those who ride in manual will love the paddle shifter parked behind the steering wheel, just like you would find on many new, upper-model cars.
The change to a DCT from a CVT also means that belt maintenance will be gone… because it's beltless! With the complaints of Maverick X3's breaking belts often, a beltless machine might be a big upgrade on this platform.
There are also 3 different engine modes: regular, sport and sport+. Regular mode will feel smoother, whereas the sport+ mode will virtually make you shift into instant power.
With a machine this powerful, Can-Am had to put a lot of focus on making sure things stay cool under the hood. There are 2 radiators on the Maverick R, one on the front, and one on the back.
With so much power, you need a suspension system that can handle it. Can-Am has introduced heavy-duty tall knuckle A-Arms that sit ABOVE the wheel to help the machine handle better under more stress. While some may think this suspension doesn't look great (we'll get into this), the suspension should be a marked improvement. The tall knuckles spread apart the upper and lower suspension, increasing the suspension's leverage. When cornering, the front upper A-arm will take on 85% less load than a UTV with conventional suspension. With the upgraded suspension, the body roll is drastically reduced, while the flexibility will allow your wheels to stay on the ground more often.
The Maverick R delivers on the performance front AND comes with all the bells and whistles you would expect with a new platform.
The cab looks amazing. You'll get a beautiful 10.25" display/infotainment system on the higher models. You can pretty much control everything from here.
The LED Headlights are responsive to how fast you are driving. The faster you go, the further they will illuminate so you can better see what's ahead. You'll get a broader, more dispersed light when you're driving slower.
Can-Am also claims that the Maverick R is nearly maintenance-free besides oil changes.
The Bad
This machine is WIDE. 77 inches (or 1.9558 metres), to be exact. Not only will this cause issues going down tight and technical trails, but machines of this size may be downright prohibited in some areas. If you like to ride deep into the bush, this machine is not for you.
There are other concerns that many have expressed over this machine. The heavy-duty tall knuckle A-Arms will limit the wheel size you can upgrade to, although not as much as riders believe. Can-Am says the platform still supports tires up to 35". However, with the restriction of 35" tires and a 17" ground clearance, this may take mudders and rock crawlers out of the market. Maybe a taller aftermarket tall knuckle A-Arm will help riders upgrade to larger tires down the road.
The other concern about these A-Arms is their durability. Never before have we had an A-Arm this exposed to the outside of the machine. Will it be able to handle everything thrown at it? It could be a common break area, but with sound engineering, hopefully, it proves otherwise.
With so many upgrades to the performance of this machine, we knew we would pay for it. The Maverick R starts at $43,999 (CAD). This is a hard pill to swallow for many. With the higher models, you can get a bigger touchscreen display, an OEM roof, better shocks and tire and wheel upgrades. The Maverick R X RS With Smart-Shox is the highest model in the platform and can run you for $54,799 (CAD) before any bundles or OEM add-ons.
This machine's biggest concern is its applicability when riding outside of wide-open terrain or race tracks. Will this machine be good for tight and technical trail riding, mudding or rock climbing? We don't think so… but we could be proven wrong.
The (Maybe?) Ugly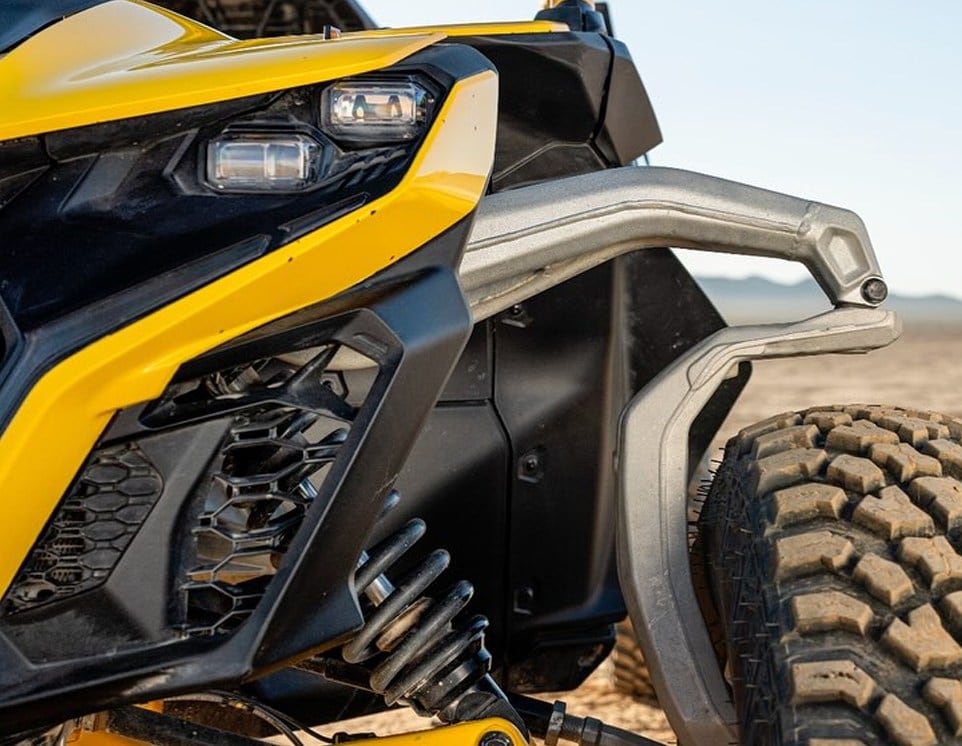 Looks are subjective. When I first saw the Can-Am Maverick R, I thought it looked fresh, aggressive, and straight-up badass.
However, one quick scroll through any comment section on a post with this new machine will show you that many do not agree. The never-before-seen heavy-duty tall knuckle A-Arm has been scrutinized endlessly across online circles. Not many are arguing what the addition adds in terms of suspension, but the look of it is groundbreaking, and with something so new, it's bound to raise some eyebrows.
Over time, riders will probably adapt to this newer, bolder look. Right now, there's no question it's a bit jarring.
In closing
Whenever a company takes a new direction on a brand that has delivered for years, that new direction will almost always be met with skepticism and criticism. With the new look of the Maverick R, the public has received it with the mixed opinions that we would imagine Can-Am expected.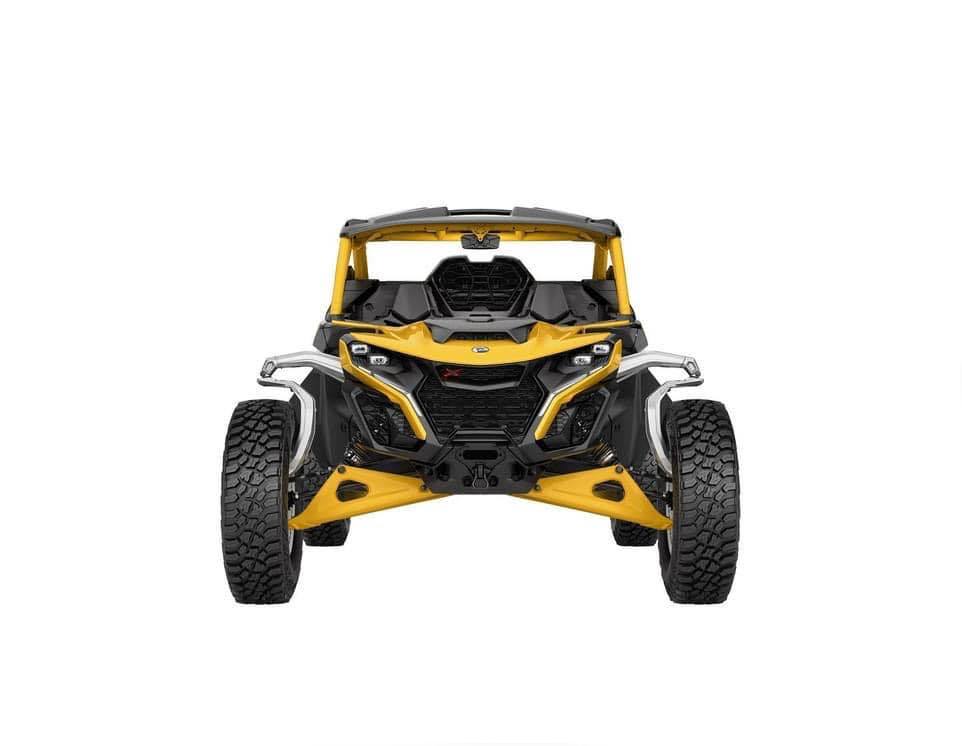 Seeing how the aftermarket world adapts to this new machine will be interesting. We know that upgrades in performance, looks, and capabilities are coming. Will people be able to get even more power out of the most powerful machine ever? The heavy-duty tall knuckle suspension is also something we've never seen before. It will be intriguing when aftermarket suppliers find ways to upgrade this innovation.

The wheels also significantly changed, as the Maverick R brings in a 6-lug bolt pattern. We didn't want to put this in the good or bad. While a machine this powerful probably required more bolts, it would be disappointing for riders who would've liked to swap their wheels onto their new platform.
Through the good and the bad, Can-Am has released what truly looks like the most powerful UTV ever. With its width, high price, and "controversial" design, it may struggle to gain traction in certain markets. However, we do believe that once someone gets behind the wheel of the Maverick R, it will be hard to deny.
While this machine might struggle in tight and technical trail riding, this will be a massive hit on the race tracks, dunes, and any wide-open terrain where riders are looking for the thrills of going full throttle.
When it comes to a big stage, Can-Am wants their machine to be taking home gold.
---
HAVE YOU SIGNED UP TO GET OUR E-NEWSLETTERS, YET?
It's super easy to do and you'll be the first to hear about sales, promotions, upcoming events, more great blog posts like this, plus so much more.
We call it our UTV Canada Ride Tribe and we'd love for you to join hundreds of other riders who have already signed up, too!