There's been a lot of buzz surrounding the new 2021 Yamaha Wolverine RMAX 1000. Is it worth all the hype it's been getting? We took a deep dive into the RMAX to see whether or not Yamaha stepped up and designed a machine that rivals the Polaris General or if they dropped the ball.
There was a lot of speculation around what Yamaha's big reveal was going to be. A lot of people thought we were going to see a redesign of the YXZ, so there was definitely a surprise when Yamaha unveiled the new Wolverine RMAX 1000. But when you look at the industry trends and see what this machine has to offer, it actually makes total sense.
What's New?
The RMAX 1000 is available as either a 2-seater in the RMAX2 1000, or a 4-seater in the RMAX4 1000. Both offer the choice of three trim selections – Standard (SE), XT-R, or Limited Edition (LE).
Yamaha pulled out the stops and added some pretty sweet interior and dash features that you can check out on www.yamaha-motor.ca. We're just going to look at the RMAX 1000 from the perspective of performance, design and durability for the purpose of this article.
The Look
Yamaha set out to make an impression with the RMAX 1000. The whole front end, with its "evil eye" marker lights, hood styling, front bumper, and rugged tires give off a very aggressive, next-gen vibe. The RMAX definitely gets points for design – it's fresh, edgy, looks great, and shows Yamaha is hoping to lead the industry in vehicle design and innovation.
Engine
If it's versatility you're looking for, this machine delivers. There's a lot to unpack where engine and power are concerned. Yamaha designed a new, slightly larger chassis and engine for the RMAX 1000 and included some pretty innovative features with their Yamaha D-Mode power delivery system and Fox iQS suspension technology.
Both the RMAX2 1000 and RMAX4 1000 have a brand new CVT equipped engine – a powerful 999cc parallel-twin engine with three drive modes, rated for 108 horsepower. According to Yamaha, it has an aggressive redline at 8500 RPMs with a top speed of about 110 kilometres per hour. And to top it all off, they balanced the crankshaft to minimize vibrations to give that smooth ride we all want.
Yamaha's signature feature – their tried-and-true Ultramatic Transmission – generates the power behind the RMAX 1000. They are so confident in their transmissions they offer a 10-year belt warranty.
Also included is Yamaha's On-Command 4WD system on the RMAX 1000 allowing you to switch between 2WD, 4WD with limited-slip, and full diff lock 4WD.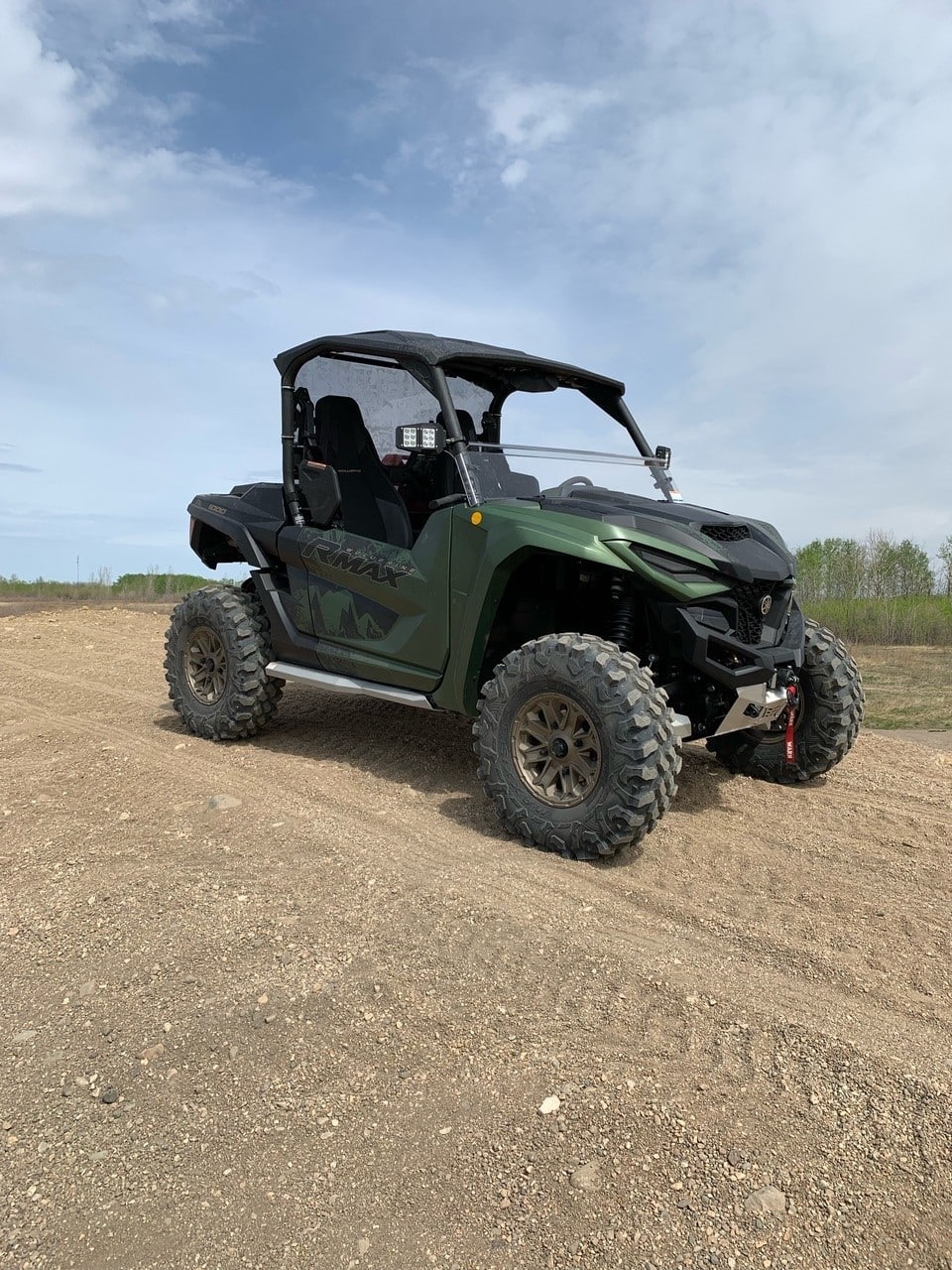 Yamaha D-Mode
The engine includes another signature feature, the Yamaha Chip Controlled Throttle (YCC-T) for optimized performance. On the RMAX 1000, Yamaha combined YCC-T with a brand-new feature called Yamaha Drive, or D-Mode. Polaris has been offering a 3-mode electronic throttle control on their machines for a few years now, but we haven't seen this in any Yamaha machine before. It's totally going to change the game for Yamaha riders.
D-Mode completely changes the driving style and behaviour of the machine, making it extremely versatile. It basically allows the driver to switch between 3 different power modes to match your terrain. All 108 horsepower is still there; however, it changes depending on the power setting you're in. Simply turn the dial on the dash and choose between Trail, Sport and Crawl modes.
D-Mode Defined
Trail Mode: Offers you a smooth ride – its about a smooth acceleration, linear throttle and full engine braking.
Sport Mode: Offers that high response feeling for those who want a more exciting experience – its about a powerful acceleration, quick throttle response, and smooth engine-braking.
Crawl Mode: Offers you traction – it eases power to the ground for perfect traction on technical terrain with smooth acceleration, moderate throttle response, and full engine-braking.
D-Mode is available on all XT-R and LE models. If you have the SE model only Trail Mode is accessible.
For most of us we would drive in Trail Mode most of the time anyhow, but you can install Yamaha's Genuine Accessory D-Mode System – it's a simple plug-and-play installation – to access Sport or Crawl modes.
We love that Yamaha has redesigned its engine and introduced features like D-Mode, but in reality, Yamaha is just playing catch-up in a game Polaris started.
While there are some slight differences in the technology to make it their own, Yamaha hasn't blown our mind with anything really new or innovative. Polaris' variable transmission (PVT) has you in the right gear, running the right RPM for whatever you're riding through – the power is stepless and seamless. They also offer Turf Mode and Active Descent features to allow you to control your machine better. Yamaha is just coming in line with the new industry standards.
Yamaha's Speed Management System
Another new feature on the RMAX 1000 is Yamaha's Speed Management System. All RMAX 4 1000 models and the RMAX2 1000 LE come equipped with this speed limiting system. By turning a removable key under the hood, you activate an artificial throttle limiter that maximizes the top speed of the vehicle to only 40 km per hour. Obviously, this isn't something you would use all the time; however it definitely comes in handy when working on job sites or letting a novice driver behind the wheel. We like that the switch is under the hood and not on the dash where it can easily be changed when you're not looking.
Chassis
Yamaha outfitted this machine with an advanced, heavy-duty suspension designed to give you the ride you want for the terrain you're in. They went with Fox 2.0 QS3 piggyback shocks mounted to wide-arc A-arms. These shocks are good – you're generally going to find these shocks only on high-performance UTVs, and yet they come standard on the RMAX 1000.
There are 3 adjustment settings that can be quickly changed without any tools – soft, firm, or stiff. The LE model comes with Fox iQS (Intelligent Quick Switch) technology allowing the driver to control the suspension damping from the cockpit with a 3-way rocker switch on the dash. It provides maximum articulation – or better stability and traction – in low-speed scenarios, and when trail riding you get the feel of a more balanced ride. Good suspension is all about getting both the high-speed and the low-speed damping right. This new suspension offers the highest level of bottoming resistance with a higher-speed damping feel so when you find yourself in more aggressive riding situations you won't feel as hard of a hit.
Stance
The RMAX 1000 is a powerful ride, but all that power is housed on a pretty wide frame. Its overall stance is 64" wide, the same as the General, however you will find the fender overhang brings it to a whopping 66.1". At this width, the RMAX 1000 may be illegal on some trails or too wide for those technical spots you're used to getting through.
Those rugged tires that give the RMAX its aggressive look are different depending on the model. The RMAX2 comes equipped with a square set up of 30" tires all around and a ground clearance of 13.8". The RMAX4 comes with a traditional staggered set-up with 29" tires and a ground clearance of 13.4".
Cargo & Towing
A nice feature of the RMAX2 is the hydraulic piston-assist dump bed. The bed is designed to carry up to 272 kg or 600 lbs, the same as the General. Obviously with the additional seating in the RMAX4 you won't see this feature, however Yamaha does allow you to expand the cargo room of the 4-seater with easy to stow full-size rear seats, and the cargo capacity remains the same.
All models have a towing capacity of 907 kg or 2000 lbs.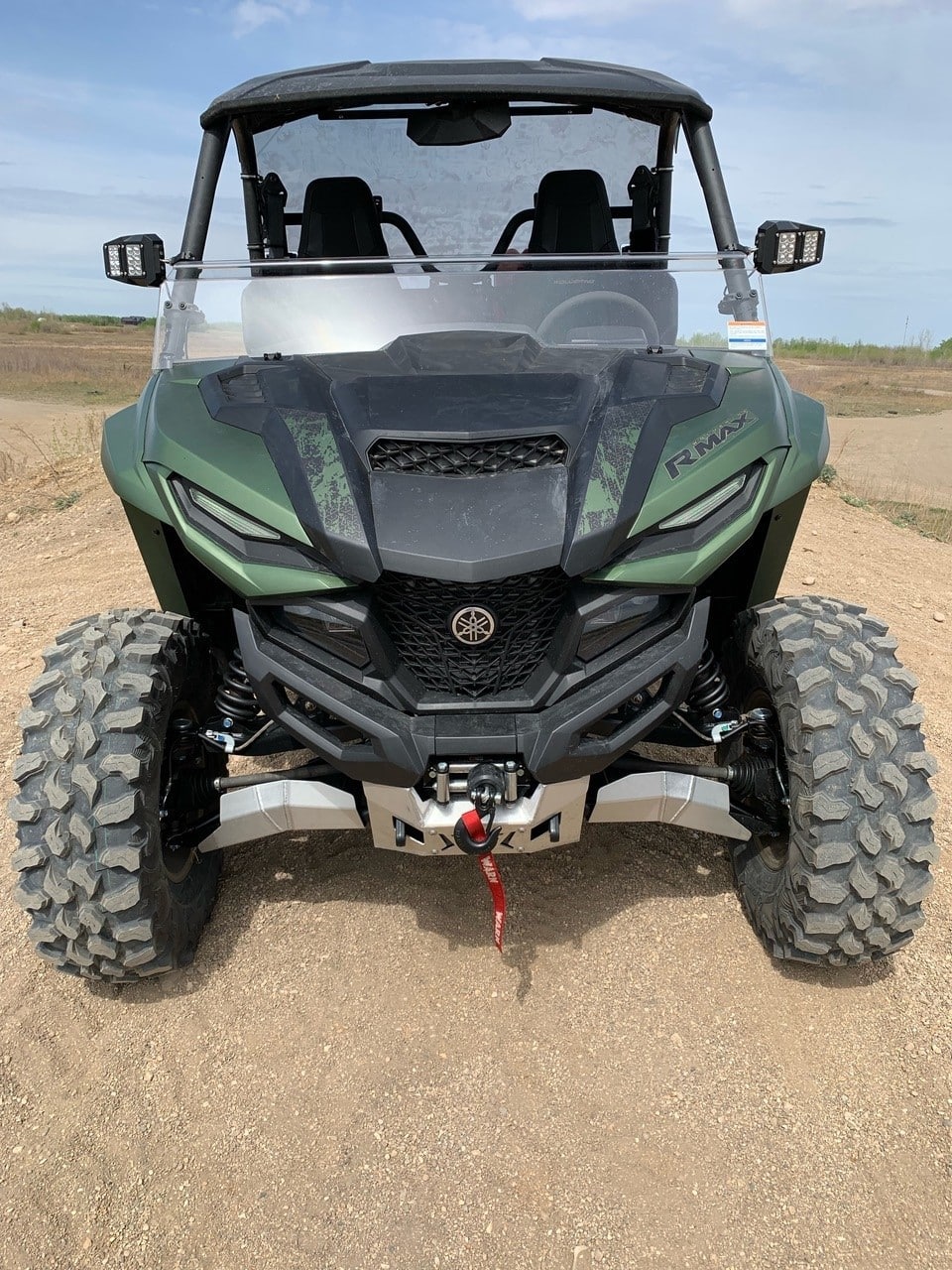 What's Next?
We've taken a pretty in-depth look at this new machine and everything it features. Yamaha has designed a machine to compete…but how does it compare to other popular models? Stay tuned for our next article on the RMAX 1000 and see how it stacks up against your favorite machine.
Consensus
Overall, we're pretty impressed with this fresh design of the RMAX 1000. It has some pretty awesome features and that next-gen, aggressive look riders want. This machine is the definition of a hybrid – combining the best of the recreational and utility machines. You get the performance you want along with the strong working capabilities. The RMAX 1000 definitely answers the call to what a lot of riders have demanded of their machines – extreme performance, durability and versatility.
Whichever model you choose, the RMAX 1000 is a pretty impressive ride, and we hope to see a lot of them out on the trails this season. We think the Wolverine RMAX 1000 is worth all the hype and we can't wait to see what Yamaha does next.
Did Yamaha answer the call and create a beast? What do you think about this machine? Tell us your thoughts on Yamaha's new Wolverine RMAX 1000 by reposting this article on Facebook.
Thank you to Neil Wolf for providing UTV Canada with pictures
---
HAVE YOU SIGNED UP TO GET OUR E-NEWSLETTERS, YET?
It's super easy to do and you'll be the first to hear about sales, promotions, upcoming events, more great blog posts like this, plus so much more.
We call it our UTV Canada Ride Tribe and we'd love for you to join hundreds of other riders who have already signed up, too!