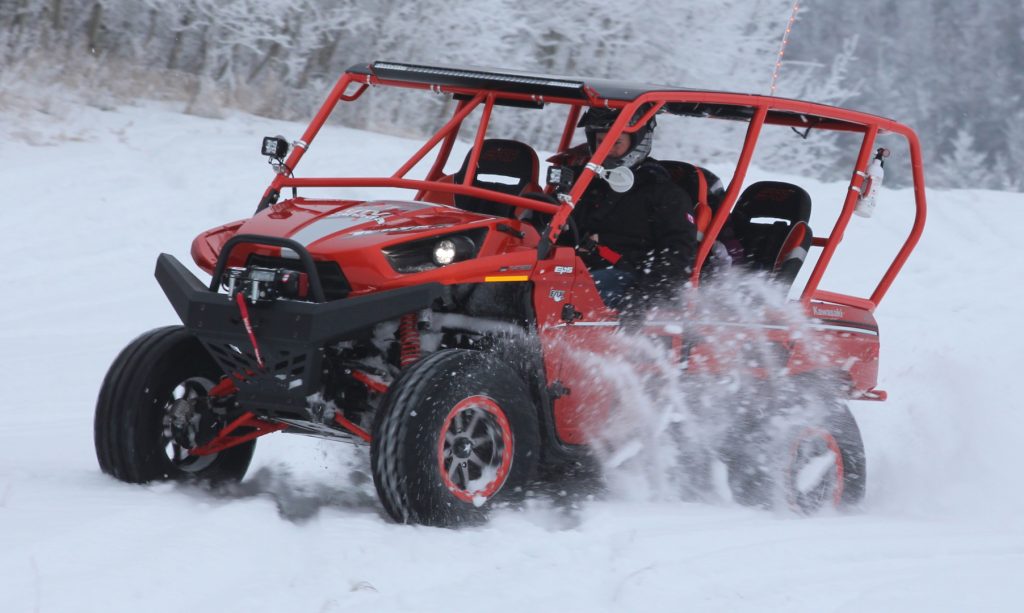 We all know that summer riding has its obstacles and challenges and we know what can be adjusted for and customized accordingly to get us that sick ride we all strive for. But who says you have to put your toys away once summer is over? Yes, winter brings several new elements to the table, cold weather, piercing wind, traction issues, floatation, just to name a few. Hunters have access challenges, Industrial users need to stay warm, Racers need to lower their center of gravity. But hey, we are Canadian, and when faced with a Snow Day we say 'Brrrr…ing it On!' I want to look at these three types of users and show you how they can improve their winter setup?
Let's start with the Hunter. Hunting enthusiast's biggest challenge is the remote access with no trail maintenance resulting in some very deep snow conditions. Track systems will help to provide much more floatation, keeping the machine on top of the snow. A large winch is mandatory for this application, but even better is a hitch receiver mounted winch that can be mounted in either the front or back of the unit. A cab enclosure will improve the users comfort, but for the hunter a full flip out windshield is mandatory for scoping out game. Quick draw gun racks will keep your fire arms at your fingertips and your rifle investment safe from getting banged around during the ride.
The industrial user can benefit from all sorts of winter upgrades as well. Work days can be long and cold, so a cab system matched with a heater will help make the winter days more bearable. For industrial use there are several ways to improve the machine's capabilities. UTV's make awesome plow machines but you can't just add a plow system and expect everything to run efficiently. Plow setups add a lot of weight to your unit, pushing with your unit when the suspension is already over loaded can be strenuous on the driveline of the machine, so adding heavy duty springs to your shocks will give the suspension high load capabilities. Studding tires or running chains on your tires will improve traction for more pushing force. Plowing at night adds the challenge of visibility, additional lighting can help. Rigid lights offer a massive line of lights including their diffused style light that makes working in front of the beam less blinding.
The rowdy race crowd have some tricks up their sleeve to improve their chances for a podium finish. Ice racing has a flat surface so suspension travel is not needed like it is on dirt tracks. Lowering your suspension as low as possible will improve cornering significantly. Swapping your tires into a smaller set will lower your ride height again and reduce rotating mass which means more power! Putting your unit on a 'diet' by removing unnecessary trail maintenance equipment or tools you may have for summer and even taking out the spare tire will help its overall handling and speed on short course ice tracks. Some units are not equipped with a factory front sway bar, ice racing is all about cornering, and the addition of a sway bar will help control body roll in corners improving the machines cornering speeds. Most ice racing events have classes for studded and non-studded tires, when installing studs the options are endless! The simplest form being screws that tap into the tread of the tire, this style of stud is easy to install and removable so you can reuse your tires next season when the snow is gone. More extreme ice racers will use a bolt through design sealing the holes with silicone, this allows for a more aggressive spike without the risk of losing any studs.
UTV Canada does not treat winter as a down season, we are Canadian after all! UTV enthusiasts use their units for all sorts of different activities, and no matter the use there are many easy, affordable ways to customize and improve the riding experience even in the harsh winter months. If you're using your UTV to play, work, or provide meat for your freezer, we can help make it a better experience.
By Mark Meyer
---
HAVE YOU SIGNED UP TO GET OUR E-NEWSLETTERS, YET?
It's super easy to do and you'll be the first to hear about sales, promotions, upcoming events, more great blog posts like this, plus so much more.
We call it our UTV Canada Ride Tribe and we'd love for you to join hundreds of other riders who have already signed up, too!