Winter is coming – we don't need the lords of the North to remind us, we're Canadian! We know what it takes to be prepared for the long, cold, snowy months ahead. And we endure it with the bravado of The Starks because that's what we've always done – minus a complaint here and there. But it doesn't have to be this way. We can make winter easier on ourselves – and it's more affordable than you think!
Just in time for Winter
RIVAL Powersports recently introduced their new Snow Plow System to the market – just in time for winter. This system has a ton of cool features and is the best priced plow for Quick Attach technology in the industry.
When you get the features you need at a price you want, there's no reason to waste all that time shoveling snow. And let's face it – when you've got a plow, shoveling isn't really a chore anymore, is it?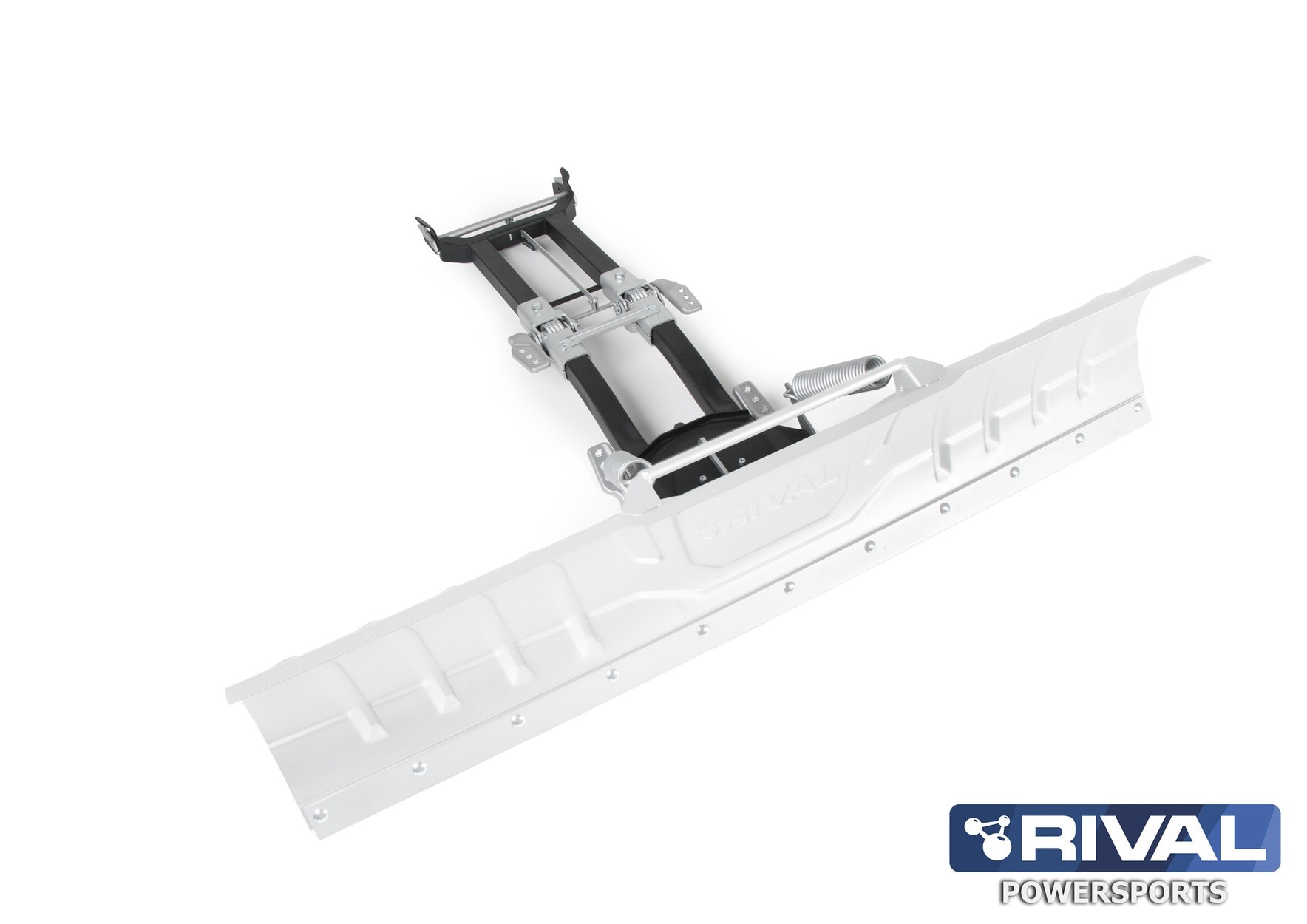 The Stronger, More Flexible Choice
The RIVAL blade is made from stamped aluminum with reinforced ribbing. This allows the blade to not only be rugged and light-weight, but also to be a lot stronger than other blades on the market.
There are springs installed on the back of the blade to allow a subtle flexibility in the blade, to move over minor obstacles if you happen to hit something hard. A more rigid system, that doesn't allow for that movement, could cause damage to your blade or plow system.
There are three blade sizes to choose from depending on your needs: 54", 60" or 72".
The Highest Articulation
RIVAL's snow plow system has two pivot points for ease of use. The first allows the blade to be angled in either direction. You simply press your foot down on a pedal latch and rotate the blade to the angle you want.
The second pivot point is an electronic one that you can manipulate from inside the cab. This pivot allows the blade to move up and down to a height of 18". RIVAL has designed a plow system with the highest articulation of any we've ever seen. If there is an obstacle you need to go over, simply raise the blade and lower it back down once you`re ready to carry on.
This capability is also beneficial when loading your machine on and off a trailer – there's no need to remove the blade, you just need to raise it.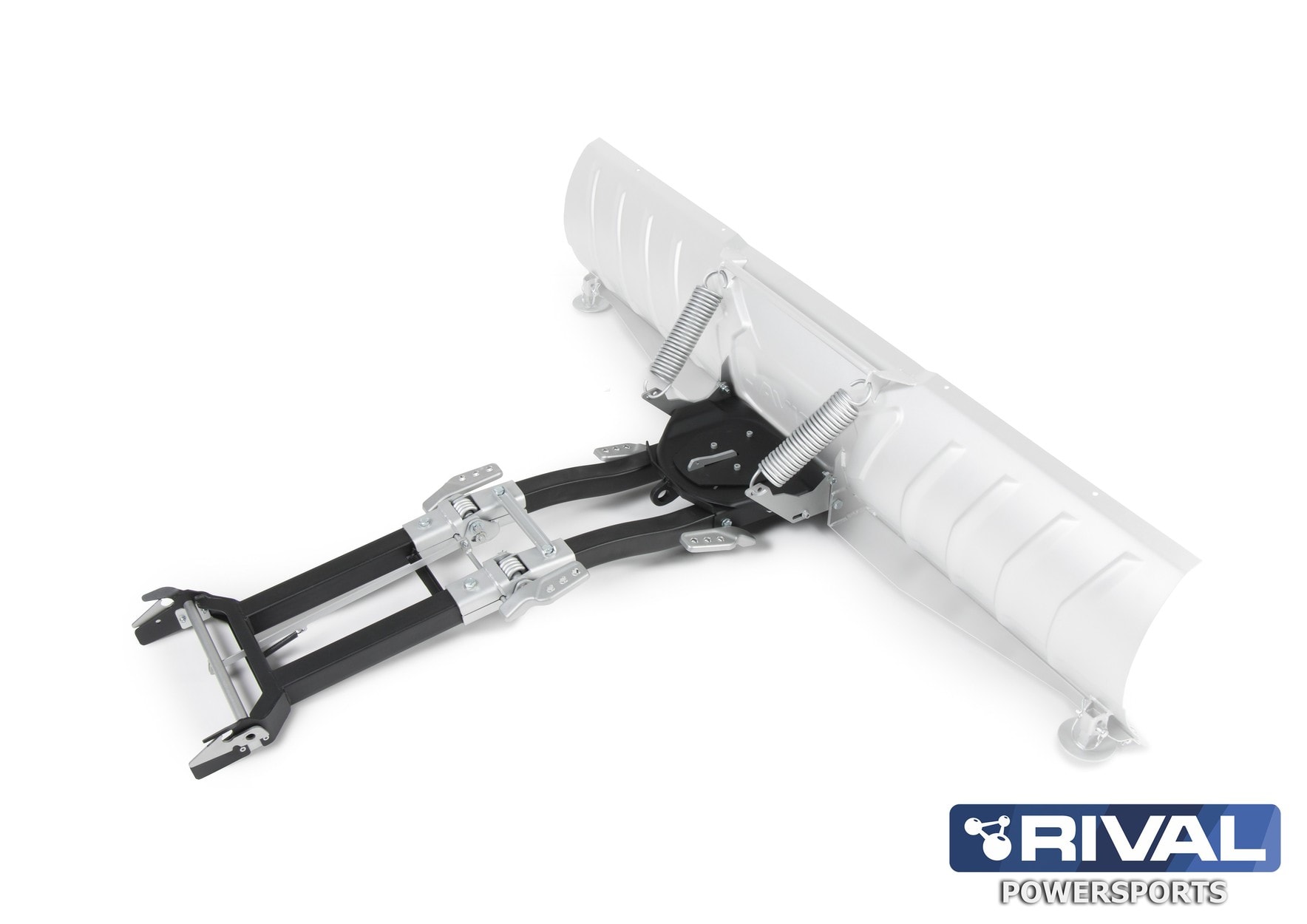 Quick Attach
We've already said the RIVAL plow system is the best-priced plow for Quick Attach technology.
Installation is so fast, and so easy. There's virtually no manual effort on your part to get this plow installed.
Removal is just as easy – literally seconds. Another set of pedal latches on the push tube releases the stem from the mount and voila, it's disconnected.
This Plow Makes the List
If you're looking at plows this season, the RIVAL plow system is definitely one to put on your list. When it comes to the quality, features, and price this blade is hard to beat.
UTV Canada carries a huge selection of RIVAL products, including the RIVAL Snow Plow System.
Check it out at www.utvcanada.com.
---
HAVE YOU SIGNED UP TO GET OUR E-NEWSLETTERS, YET?
It's super easy to do and you'll be the first to hear about sales, promotions, upcoming events, more great blog posts like this, plus so much more.
We call it our UTV Canada Ride Tribe and we'd love for you to join hundreds of other riders who have already signed up, too!