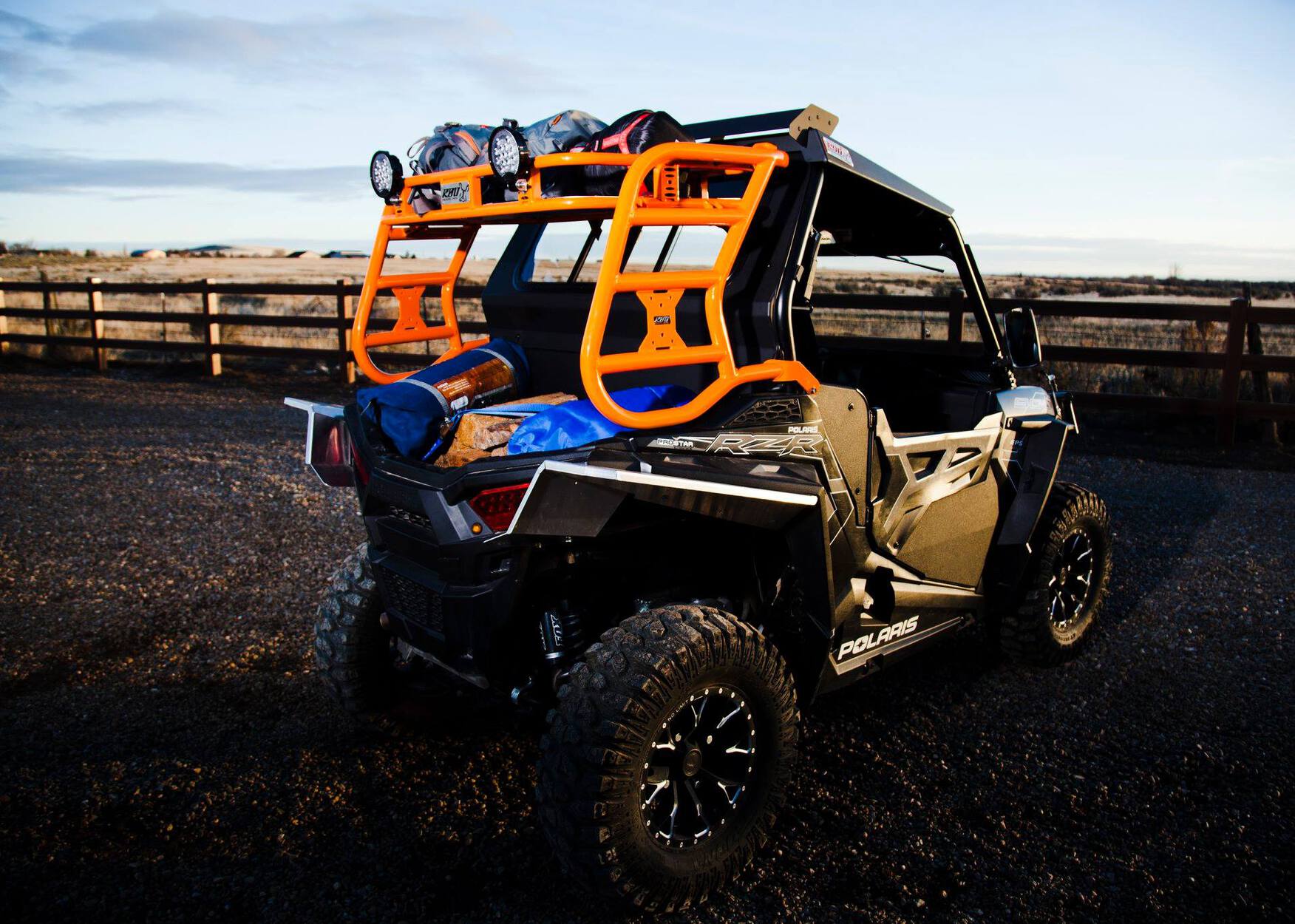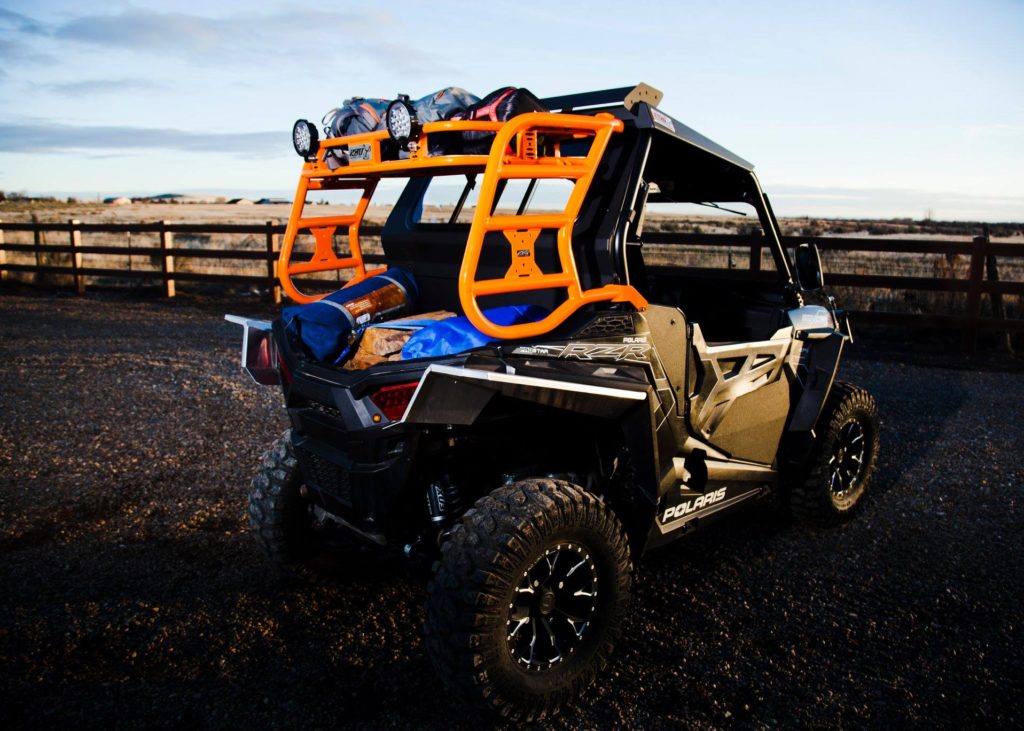 Squish it, shove it, cinch it, pound it! Try as you might, there's just never enough storage space in your UTV to fit everything – until now! Razorback Offroad (RBO) has designed a sweet cargo rack with a ton of mounting and design features. They thought of everything – and I mean everything – you could ever want to take on the trail with you.
The Best-Looking Rack:
Razorback Offroad's cargo rack was designed to be the best-looking cargo rack on the market with some kick ass features.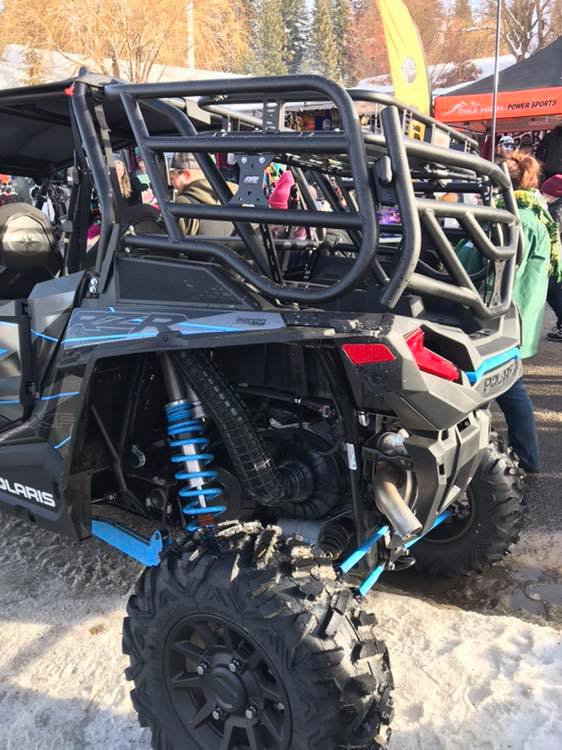 They designed different size cargo racks for your varied storage needs.
The Explorer Rack is the smallest while still holding a surprising amount of gear; the Sherpa Rack is slightly larger; and the Expedition Rack is the 'holy crap, it holds everything and the kitchen sink' version.
Razorback Offroad's cargo racks were designed to be rugged, built to last and offer multiple storage configurations to accomodate all your gear.
And they're super easy to install. It should take you only 5 minutes to get on – or off – using the rubber expansion plugs to hold them down into the Polaris Lock & Ride system.
Revolutionary Mounts:
We can't talk about Razorback Offroad's cargo rack without mentioning their specialty mounts, designed specifically for it.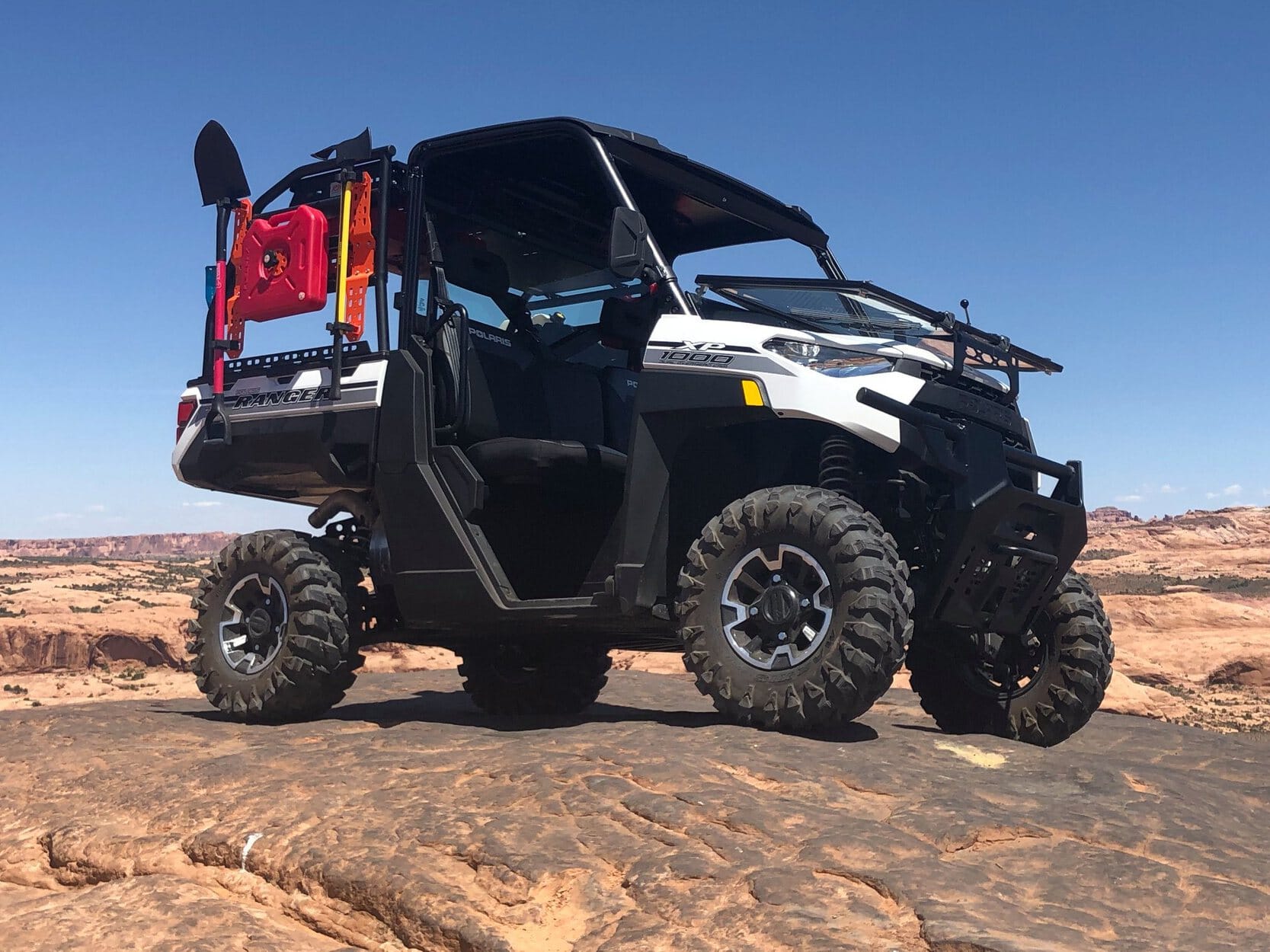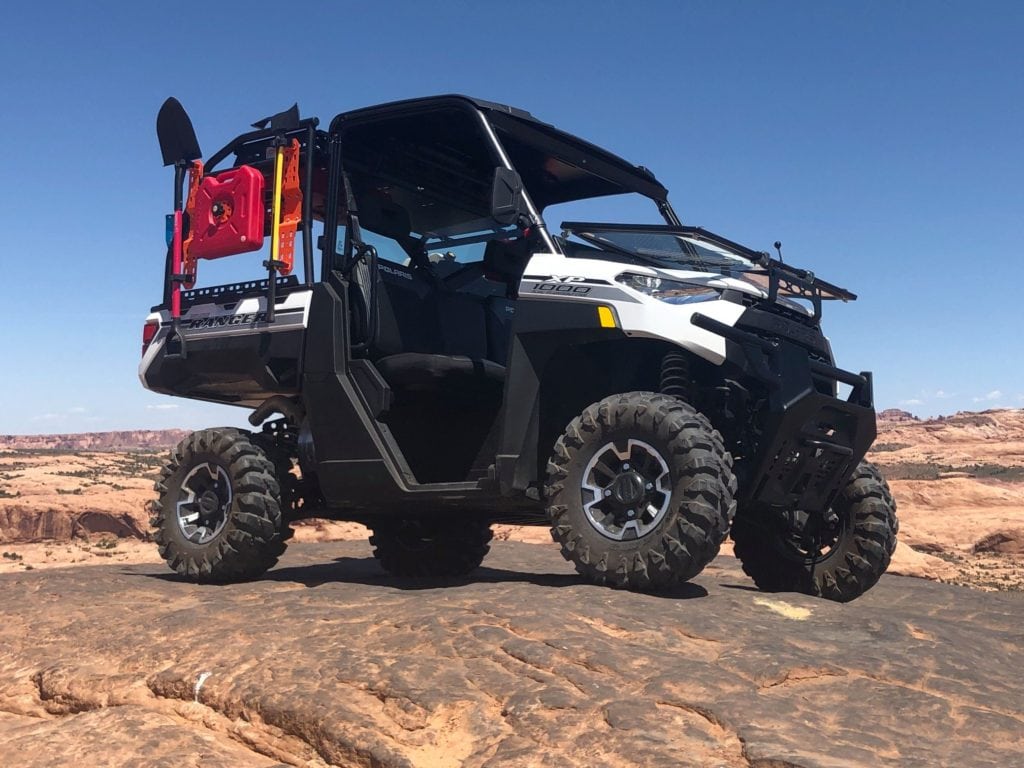 RBO has come up with an ingenious mounting system they call 'It Fits' to complement their cargo rack.
Customizable mounting features allow the user to modify the cargo rack and move the 'It Fits' mounts around the rack – offering hundreds of different mounting options to store your gear. These include a Universal Tool Mount, a Spare Tire Mount, and a RotopaxTM Mount.
It's a genius system that RBO came up with.
Tie it down:
When RBO designed their cargo racks they wanted to have as many tie down locations as possible. Giving you the freedom to store your gear the way you need it stored. Research showed them that the single most important feature of a good rack is to have plenty of tie down options.
So RBO incorporated slotted holes and speed dots throughout the rack for bungee cords, motorcycle straps, or rope to secure cargo.
Your stuff will be so secure you don't need to worry about anything bouncing around or rattling in the back.
Storage Tray:
RBO added a brilliantly designed upper storage area to the cargo rack. This top rack offers more tie down areas, along with the opportunity to easily mount things like LED Lights, without any drilling required.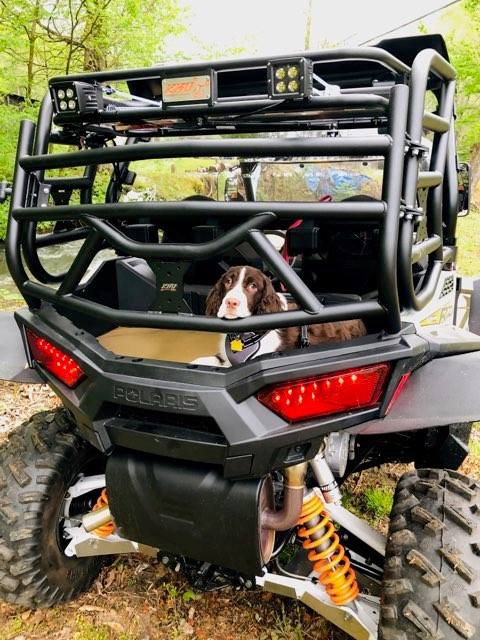 The actual tray has added features to avoid water pooling and rust forming. RBO manufactured it out of alloy aluminum that won't rust, and added bent channels to drain any water that might sit on the tray.
I'm telling you, they really thought of everything here.
The Tail Gate:
The tail gate is by far the coolest feature – in my mind anyway.
It only comes on the Expedition Rack and offers a whole new level of security for your storage needs.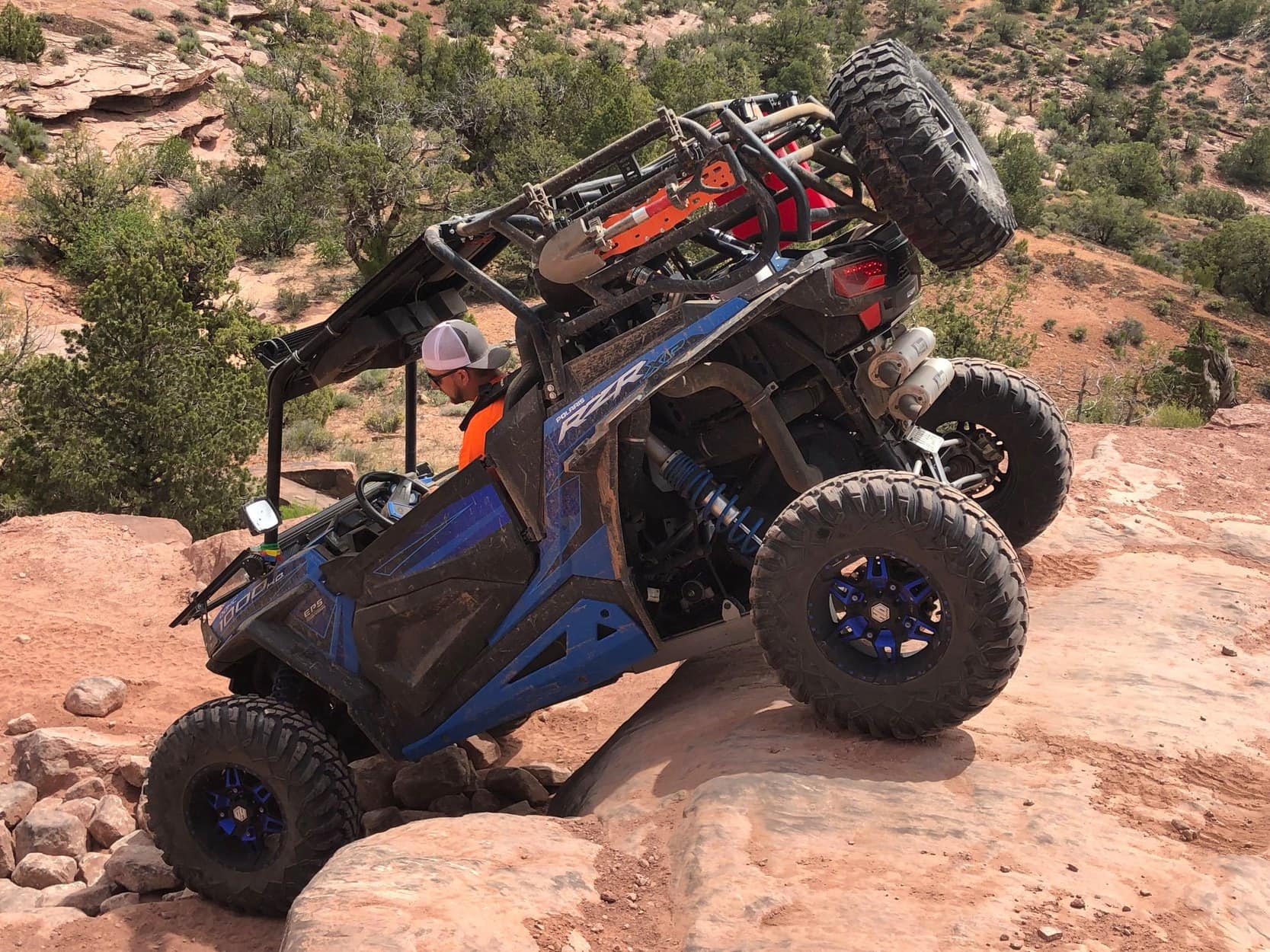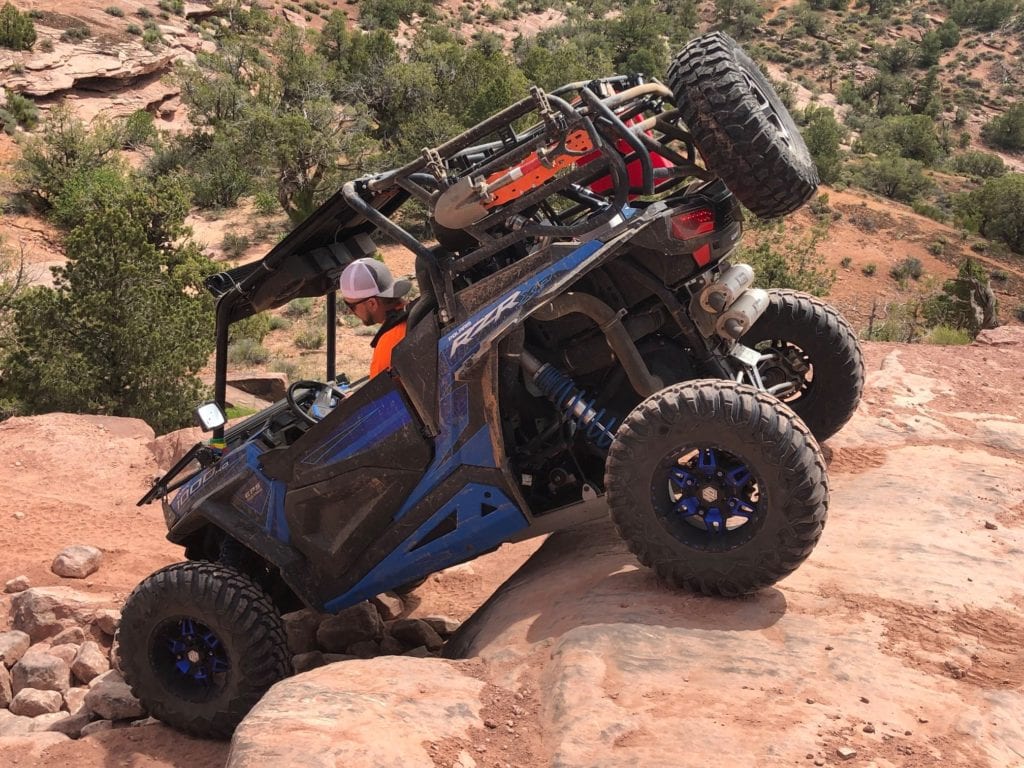 This tailgate has been designed to lock and load – or load and lock in this case.
You now have a huge storage area where you can padlock items like your helmet, cooler, etc. and keep them safe if you wander away from your ride.
The tailgate has 'It Fits' mounting brackets incorporated into it, so any 'It Fits' accessory can bolt right on.
They've also installed a gas strut to slow the door down and prevent it from overswinging; and use their RBO signature hinges to ensure the door will stand up to overuse.
I Gotta Have It:
There is a ton, and I mean a ton, of stuff that fits into any Razorback Offroad cargo rack. Not only will you be blown away by the features and appearance of this rack, but you will be the envy of everyone you ride past.
It's so cool you just gotta have it.
Currently the cargo rack is available for a number of Polaris models, with the Sherpa model being available for CF Moto as well. RBO has just released a few Can-am accessories, so I believe it's just a matter of time before we see a Can-am cargo rack on the market – fingers crossed.
Check out RBO's cargo racks, available exclusively at UTV Canada.
---
HAVE YOU SIGNED UP TO GET OUR E-NEWSLETTERS, YET?
It's super easy to do and you'll be the first to hear about sales, promotions, upcoming events, more great blog posts like this, plus so much more.
We call it our UTV Canada Ride Tribe and we'd love for you to join hundreds of other riders who have already signed up, too!