It's a challenge we all face. There's not enough air flow, too much splatter, or too many blind spots. There are a lot of things to think about before purchasing a windshield. Get the wrong one and you suffer with limited visibility, lack of airflow, etc. Razorback Offroad (RBO) has designed a fold-down windshield that offers solutions to these problems and more.
When RBO sets out to build an accessory they go all in. Extensive R&D, thorough product testing, and innovative design features have set them apart as an industry leader.
Razorback Offroad Windshield – Superior Design
Not all windshields are created equal. In fact, you should really do your homework when looking to purchase a windshield for your Side by Side to ensure you get exactly what you need – there are numerous options.
If you're in the market for a windshield you have to check out RBO's selection. They set out to design the absolute best fold-down windshield in the industry, and it appears they did. The innovations they've built into this thing are pretty unreal.
Features
No Bolts, No Pins
When it came to securing the windshield in place, RBO went back to the basics. There are no bolts or pins to deal with – just a simple latching mechanism that allows you to unlock and fold the windshield down.
Better Visibility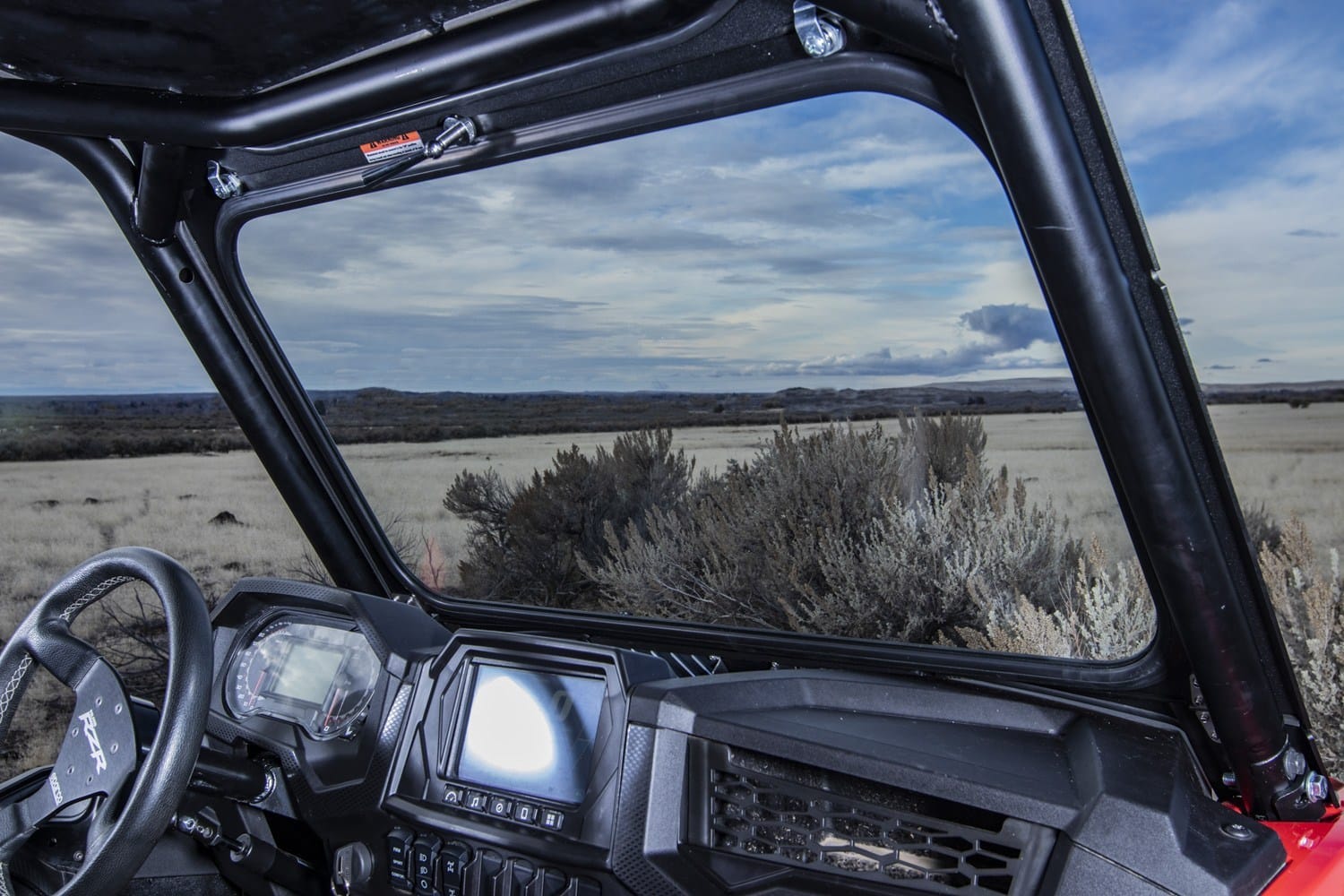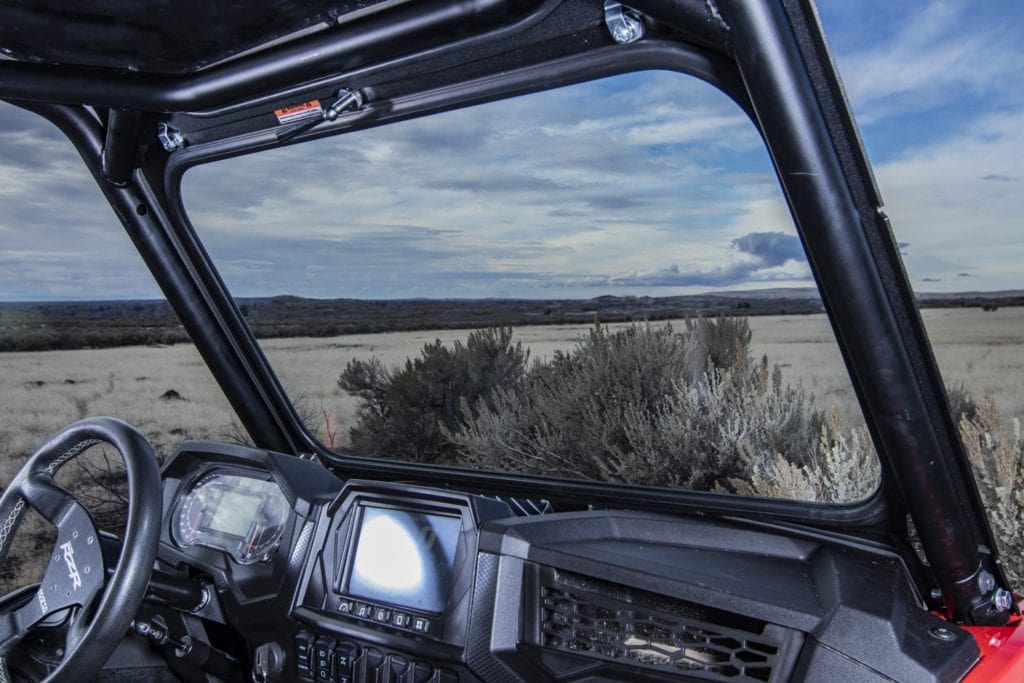 RBO set out to improve sightlines and eliminate blind spots. Their vision was a windshield with the maximum amount of viewing area possible. This was easier said than done. In order to accomplish this they had to develop their own unique hinge system.
Most windshield companies use a piano hinge that breaks down over time due to rust, a build-up of gunk, and over-use. RBO designed a stainless steel hinge to replace the piano hinge. It's not as susceptible to the wear and tear of traditional hinges, and it allows for a bigger windshield area.
You have the option of having a manual wiper installed as well.
Specially Designed Ventilation System
It's amazing how hot it gets inside a UTV once you install a roof and windshield. Without proper ventilation the heat gets trapped. RBO thought of that too, and developed their own ventilation system designed right into their windshields. Individual vents line the bottom of the windshield – each vent can be opened and closed separately allowing you to control the airflow inside the cab.
Improved Latching System
During R&D RBO found that the windshield latching system could be improved on. Most fold-down windshields have you fiddling with tiny hood pins when opening and closing. RBO didn't want to waste time using little gizmos that can easily get lost on the trail so they sought help from the Jeep Industry. The result – RBO's windshield uses a miniature hood latch that hooks over the windshield when folded down, and prevents it from bouncing around on the trail.
RBO also raised the mounting bases on their hood latches to give you a flat surface to work off of. Use it as a table top or a stable platform to target shoot from. It's genius.
Buying Confidence
The Razorback Offroad Windshield, is raising the bar in the offroad accessories market. It's a name you're going to hear over and over again. They put their heart and soul into building the industries best products so you're not just buying a product; you're buying confidence that your ride will be better.
RBO products are exclusive to UTV Canada. Check out their fold-down windshields today and see what else is available from RBO at www.utvcanada.com.
---
HAVE YOU SIGNED UP TO GET OUR E-NEWSLETTERS, YET?
It's super easy to do and you'll be the first to hear about sales, promotions, upcoming events, more great blog posts like this, plus so much more.
We call it our UTV Canada Ride Tribe and we'd love for you to join hundreds of other riders who have already signed up, too!