Let's face it – every single one of us has that primal instinct to put the pedal to the metal and see what you and your machine are made of!  We know you crave the adrenaline rush where the rev of the engine and the thumping in your chest are the only sounds you hear.  Well guess what – your fantasy is about to become reality!
UTV Canada has partnered with Punisher 4×4 to bring you The UTV 100 at Tail Creek in Alix, AB, on the September Long Weekend.  This race has something for everyone whether you are first time racer in the Sportsman Class or seasoned racer competing in the Pro Class.  New to the Alberta racing scene, we think endurance style racing is where it's at.  Racers will have 2 ½ hours to do 15 laps of a 7.2 km course. The 100km endurance course will be the race of the season that will test your machine and your racetrack smarts.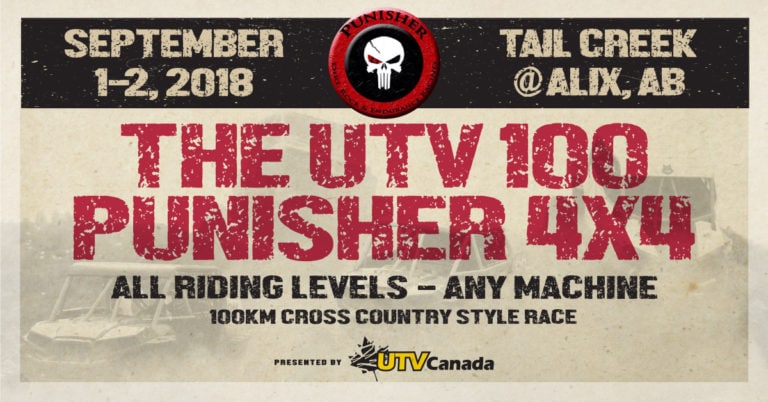 Here are all the details:
Who: YOU!!
What: The UTV 100 Punisher 4X4 Endurance Race presented by UTV Canada
Where: Tail Creek Raceway, Alix, AB
When: September 1-2, 2018.  Pre-run on Sept 1, Race on Sept 2.
How: Call UTV Canada @ 780-986-8001 to register
Why:  It will be an epic weekend of racing that you do not want to miss out on!
Cost: $125 Sportsman Class
$250 Pro Class
No extra fees for a co-pilot.
Required Equipment: See the official 2018 Punisher 4X4 UTV 100 Rulebook  for full details, but in a nutshell, you must have the following in order to race.
Fire Retardant Race Suit*
Helmet
Goggles
Neck Brace*
4 Point Harness*
Roof*
Doors*
Window Nets OR Arm restraints*
Fire Extinguisher*
*Products marked with an asterisks are available through UTV Canada.
Also, there will be food trucks and camping on site plus an awesome spectator area.
Regular races fees include one pit spot. They do not include camping, entry fees.   Drivers, co drivers and pit crew are responsible for any gate fees and camping fees upon arrival.
For questions, to order your required equipment or to register, contact Mark or Reid at UTV Canada.  780-986-8001 or sales@utvcanada.com.
To stay up to date on the event, be sure to follow our Facebook Event Page.
---
HAVE YOU SIGNED UP TO GET OUR E-NEWSLETTERS, YET?
It's super easy to do and you'll be the first to hear about sales, promotions, upcoming events, more great blog posts like this, plus so much more.
We call it our UTV Canada Ride Tribe and we'd love for you to join hundreds of other riders who have already signed up, too!