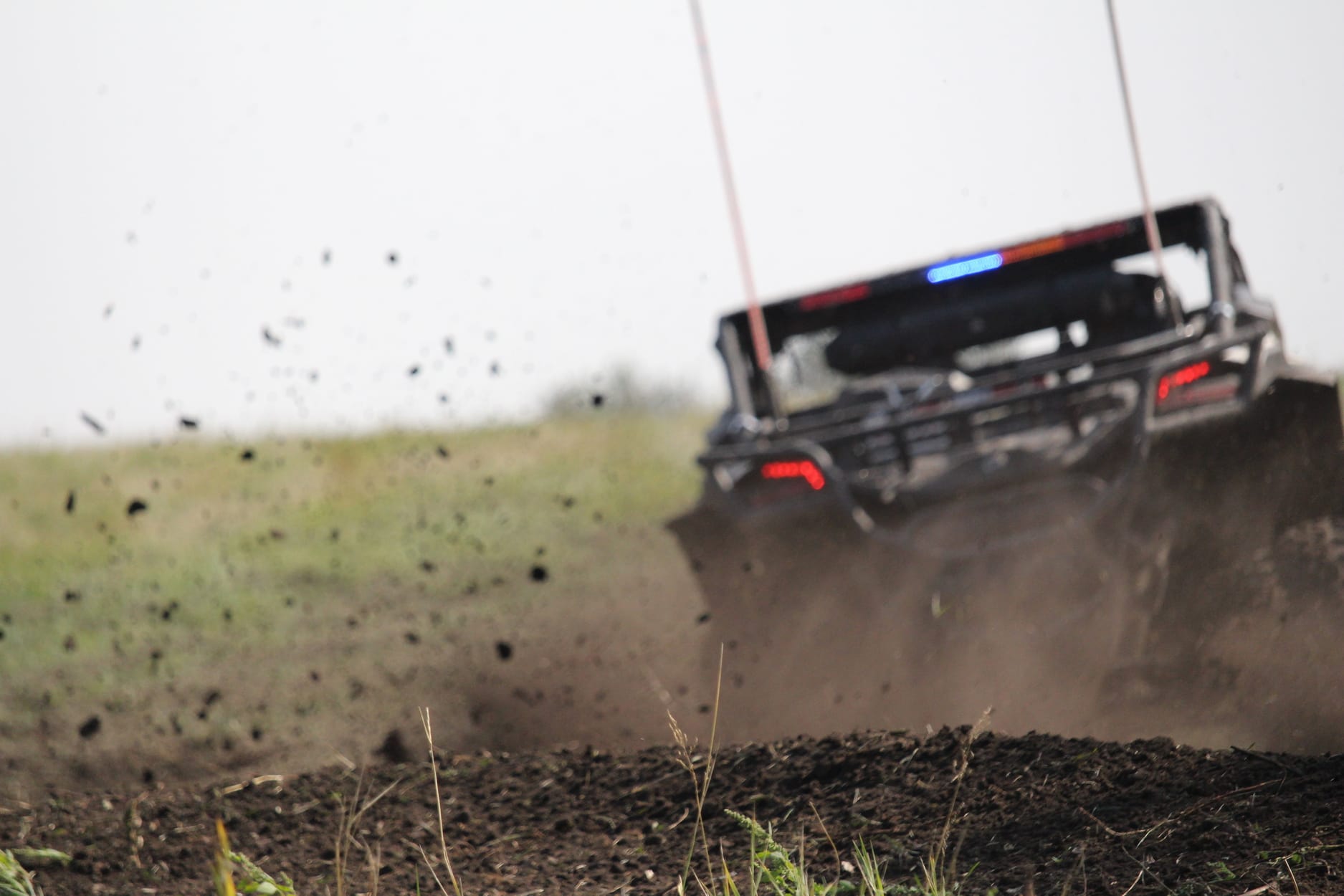 It's a hot topic – we get it. But before you go jumping to conclusions, hear us out. It's #ResponsibleRiding Month and we're covering everything from safety to stewardship to sustainable riding. That includes talking about things we sometimes don't agree on – like mud.
It doesn't matter which side of the debate you're on. We just want to have a conversation – no accusations, no pointing fingers.
We're all riders – members of the riding community – and we all deserve the right to be heard.
Clear as Mud
We've come along way as a community – changing our riding practices as awareness campaigns improve our understanding of why rules are in place. Back in the day we believed the best way to clean our machine after a good ride was to race it up and down the creek bed and let the water clean it off. But hey, back in the day we smoked in hospitals too.
In those days, we saw riding for the joy it brought us and we weren't aware of the negative impact of our actions. Times have changed, and we've changed along with it. Now we know better.
Today, we stay out of natural waterways, away from shorelines, and cross at designated crossings only.
Did you know it's illegal in Alberta for OHVs to drive on or near shorelines, creek beds, or lake beds. Why? Our tires stir up silt that settles on the developing fish and/or fish eggs and basically suffocates them.
If we claim to care about sustainable riding, we need to respect all users of the land, especially the wildlife.
Riding in the mud isn't so clear. So what does that mean for us? What is the stand on mud when it comes to #ResponsibleRiding?
Mud Wrestling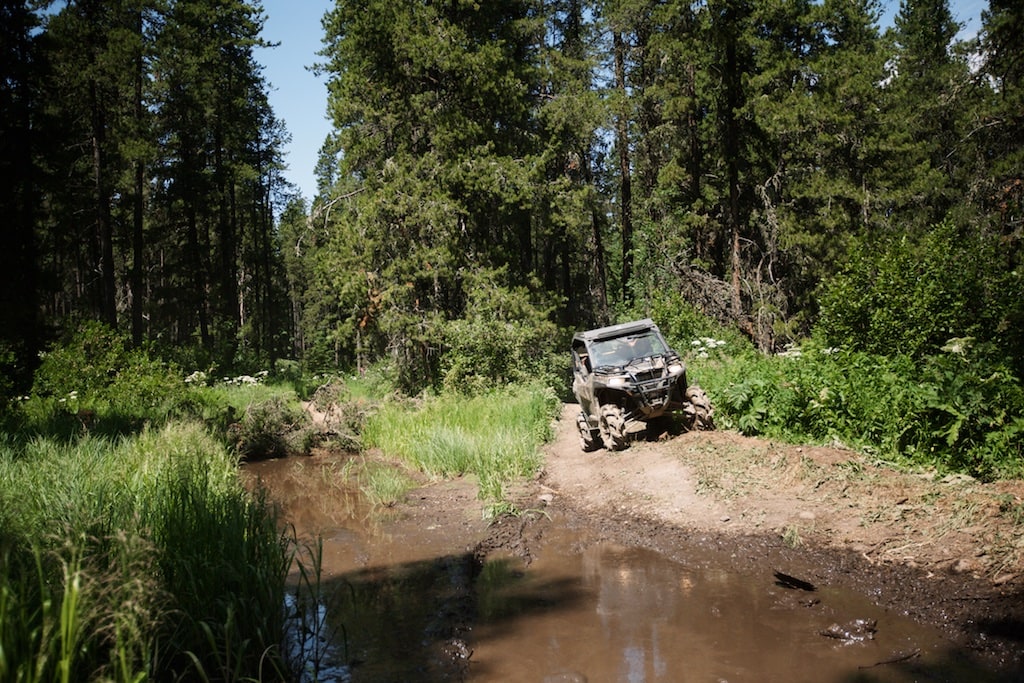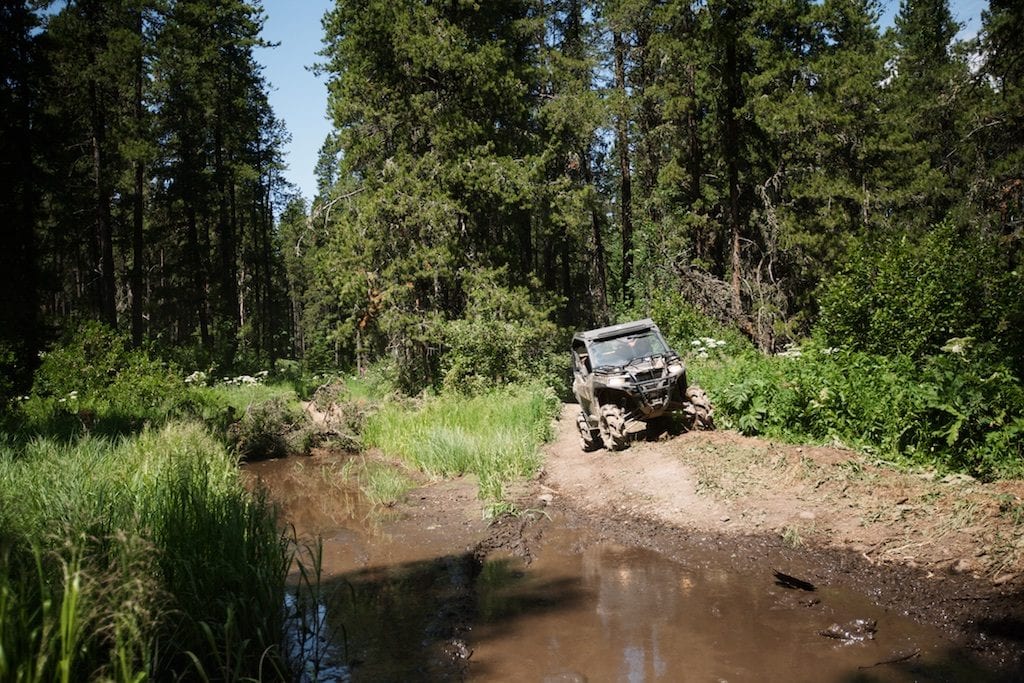 We've got swamps, muskeg, and Bounty Holes. They typically mean a couple of things. First and foremost it means you and your pressure washer are about to become best friends. Second, it means we just stepped in a controversial pile of literal loon sh!t here.
This is one area where the us vs them division is occurring within our own industry, our own tribes.
So let's look at both sides of the argument for and against.
Gone Muddin': Arguments for
I. There's little to no environmental damage.
It's just mud, and a few puddles, along the existing trail. We're not going off trail and the puddles aren't natural waterways. What's the big deal?
II. There's a whole industry created around mudding.
Just look at these machines – they're made for mud. Some people truly believe the dirtier the machine the better the ride.
There's mud racing, mud events and a crap load of mud accessories.
III. It's part of the adventure.
Going through the mud is part of what makes riding fun. We're adventurous, we take risks and we enjoy obstacles – one being mud.
Riding season is short enough here – if we waited for the mud to disappear, we'd never get out for a ride.
The Mud Stops Here: Arguments against
I. It's not environmentally responsible.
Those against mud riding argue it's not environmentally responsible. Our tires churn up the wet terrain and cause ruts to form. Water sits in these ruts – water that would otherwise naturally drain away – and causes trail and land erosion.
The mudders believe it's not the tire, it's the throttle. If your machine is set up right then it should be able to get through the hole without rutting it all up. It's the smaller tires and heavy on the throttle that actually cause the damage. On the other side of the coin the stock machine riders say its the big tires that rut it up in the first place and now the only way to get through is to pin it.
II. It leads to trail damage and unrideable conditions.
Large ruts make for a very bumpy and uncomfortable ride. If the ruts are too big people don't want to ride through them, resulting in detours around that section of trail. This results in unnatural trail widening and damage to plants and terrain surrounding the trail.
III. Who repairs our trails?
Someone has to repair the trails in order to get them back to safe riding conditions. A number of trails across our country are maintained by volunteers who put their own time and money into making sure our trails are safe and rideable. It's not right to expect them to repair the damage caused by our joy rides through the mud.

Getting Dirty!
The fact is, there are no laws that say you can't ride in the mud. If the land is too wet and muddy the trails are closed. But when the trails are open a lot is left to the rider's discretion.
#ResponsibleRiding doesn't mean we need to take a stance on whether it's right or wrong to ride in the mud.
What it means is that when we ride, we need to respect the land and other riders.
If and when we come across mud – and it will happen – we need to think about whether or not we're harming the land if we ride through it.
What's the Solution?
So where do we go from here? We can't let the mud debate divide our community. Do you think we can ever come to an agreement on the issue? Do you have a solution both sides could live with? Let us know what you think by leaving your thoughts on Facebook.
_________________________
#ResponsibleRiding Tip: Riding is a privilege we enjoy. A privilege that can be taken away – which we saw first hand in Alberta. It's our job to make sure the areas we ride stay rideable.
Get involved in your local club and volunteer on trail clean-up and maintenance days. Doing nothing only contributes to government controls and riding area closures.
---
HAVE YOU SIGNED UP TO GET OUR E-NEWSLETTERS, YET?
It's super easy to do and you'll be the first to hear about sales, promotions, upcoming events, more great blog posts like this, plus so much more.
We call it our UTV Canada Ride Tribe and we'd love for you to join hundreds of other riders who have already signed up, too!