Most of us aren't lucky enough to ride straight from the garage to the trail. For the majority of us, if we want to go riding, we need to haul our machine somewhere. There are a lot of options to choose from when it comes to towing your UTV. For the most part what you're hauling, and where you're hauling, will determine which option is best for you. In this blog we will discuss the different options available to you, to help bring your machine to your weekend destination.
Hauling With A Truck
Hauling your machine in the bed of your truck (and we're talking full-size pickup truck here) is great if you only have one machine and it's less than 54" wide.
This is definitely the most economical option when it comes to hauling your ride. It's most common with riders hauling ATVs due to their smaller size. To make this work, you only need ramps and some tie down straps to get the job done.
This may seem like the easiest option, but it doesn't come without its challenges.
Ramps
Make sure you invest in some good solid ramps that will hold the weight of your machine. We've all seen what happens when ramps give out. You also want to make sure the ramps are held securely in place while you're loading/unloading your machine. You don't want the ramps slipping off the back end of the truck while you're on them.
Wheel Wells
Don't forget about the wheel wells in the truck bed. Most standard trucks have only 48 inches between the wheel wells, so you have to consider whether you're comfortable driving your machine up and over one or both to fit it in the back of the truck.
Rear Window Incidents
A pretty common, yet costly, mistake is shattering your truck's rear window when hauling a machine in the back of your truck. Don't learn this lesson the hard way. It only takes a little, undetectable, slack in your straps to shift your machine and have it come through your window when you hit the brakes. Make sure you take some measures to keep your rear window safe.
Pro Tip: Put your spare tire in the front of the truck bed, by the window, and pull the machine up to the tire. This gives you some flex room and protects the truck window from breaking. ASSUMING YOU HAVE ROOM.
Tailgate Supports
If the bed of your truck is not quite deep enough you can purchase ramp extenders which will extend the bed of your truck by about 2 feet. One thing you need to be concerned about is the amount of weight resting on your tailgate. All it takes is for one unexpected bump to snap your tailgate supports, and you'll find yourself in some serious trouble. It's not worth it.
Pro Tip: Always strap your ramps to the truck while driving. A lot of the newer ramps are lightweight aluminum and it only takes a bit of wind to lift 'em right out of the back of the truck. Even if you have heavier ramps it's still a good idea to tie them down. Better safe than sorry.
Truck Rails/Decks:
There are a few different options if you have a bigger machine and still want to use the back of your truck. Truck rails & decks gives you the opportunity of transporting your machine while keeping your hitch free for a camping trailer, boat or whatever else you need to haul. UTV rails or decks are a great option to consider. Keep in mind that they are generally designed for heavy duty trucks with increased payload capacity.
The terms rail, rack and deck seem to be used interchangeably for the different systems. We are going to differentiate them for the purposes of this blog.
Truck Bed Rails
These are metal rails that sit on top of and run the length of your truck bed walls. They're easy to install and allow you to use the bed of your truck when you're not hauling your machine off to the trails. They also allow you to keep most of the weight of the UTV lower in your truck bed so your truck handles better.
UTV Decks
These are basically a metal tonneau cover that covers the bed of the truck. It sits on the truck walls and allows you to drive your machine right on top of the deck. There are even hydraulic powered decks, so all you have to do is drive onto the deck, tie it down and let the hydraulics put the machine on top of the bed of your truck. The major disadvantage with the deck system is that you're carrying your machine high on the back of the truck which means the weight sits up high and this can have a negative affect on how the truck handles. You may see an increase in fuel costs because of the additional weight, plus you are technically making your truck less aerodynamic in the process.
Truck Modifications
You do need to take into consideration that you are adding significant weight to your truck when you're hauling your machine in the back. Some experts suggest installing air bags, or air springs, on your truck to make sure it's level and ensure better ride quality and stability.
A lot of people don't put a lot of trust into the factory tie down hooks on their truck so they add their own frame mounted tie downs to give them more options and peace of mind.
HAULING WITH A TRAILER:
The size of the average UTV keeps getting bigger and that means we can't fit our machine in the back of our truck – we need a trailer.
There are basically three options of trailers to choose from, and which option you go with depends on your needs.
Open-air trailers
These are the most common trailers on the road. They're easy to come by and fairly inexpensive, offering you a wide range of sizes to choose from.
The biggest advantage of the open-air trailer is that they are lightweight and easy to tow no matter what you drive. And they are easy to load/unload and store.
Your standard utility trailer may not be wide enough so look for a car trailer or a trailer designed specifically for OHVs. Trailers designed specifically for transporting vehicles have features like foldable rear ramps and drop decks to make loading and unloading easier.
The main disadvantage to an open-air trailer is that your machine is open to the elements – whether that's debris on the highway, the weather, or vandals and thieves.
Pro Tip: Tie everything, and we mean everything, down. Use bungee cords for holding down loose seats, your roof, fenders or anything that could potentially blow off.
Enclosed cargo trailers
They are great for keeping your machine safe from the elements and come in a variety of sizes and configurations. Before you buy, make sure your machine fits in the trailer – often height is the biggest issue here. An enclosed trailer also weighs more so you need to know the weight capacity of your tow vehicle, and you have to consider where you're going to store it.
Toy haulers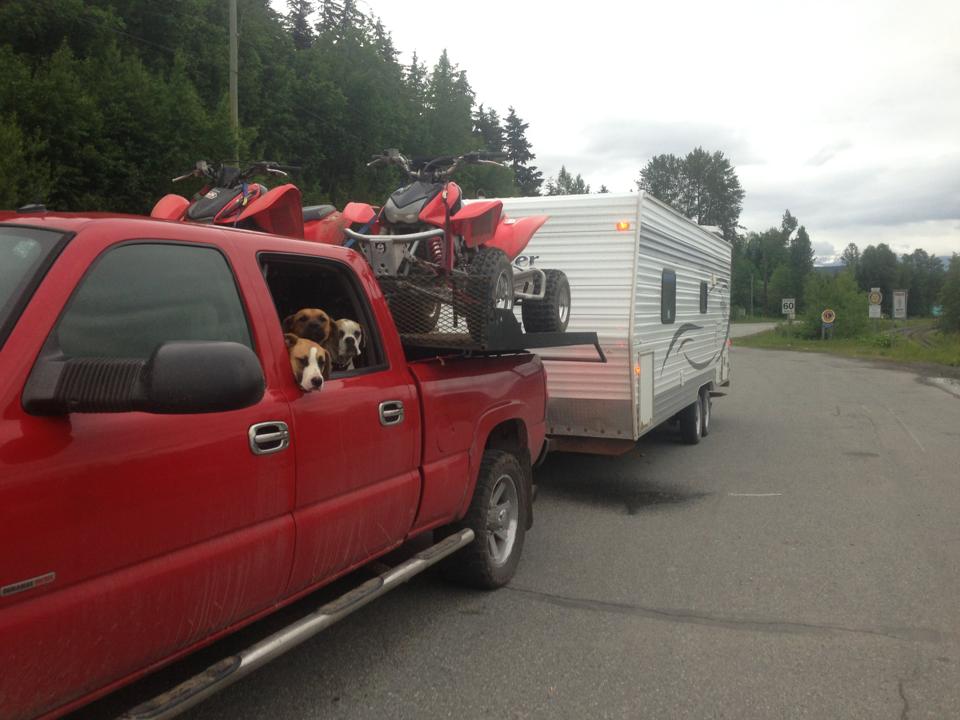 These are great for riders who like to go out for several days at a time. They're expensive and require a large tow vehicle, so they're not the optimal choice for most day riders. Toy haulers are basically camping trailers with an attached 'garage'. Again, you need to consider the height and width of the 'garage' to make sure your machine will fit, and where you are going to store it when it's not being used.
WHAT TO KNOW WHEN CONSIDERING A TRAILER:
When you're using a trailer always make sure it has adequate weight capacity and proper tires to handle the load. Attachment points differ from trailer to trailer so you may need to install D-rings or something similar if the ones on the trailer aren't where you want them.
When considering trailers, you want to think about more than just if it will fit your machine. Think about where you plan to ride the most and will it be easy to navigate your trailer to these spots. Consider things like how wide the roads are to get there.
When it comes to our toys and how we haul them, most of us must work within a budget. Your needs and budget are the biggest influences on deciding how to haul your machine.
Make sure you have a good understanding of what you want to accomplish and list the pros and cons of each choice you're considering. A toy hauler is expensive, but if you're looking for a camper and a way to haul your machine that might just be the most cost-effective choice.
You have to make the best choice for you with the budget that you have.
Pro Tip: You want to apply equal and opposite pressure when using your tie down straps to stabilize your machine.  Look at your owner's manual to see where the machine's recommended tie down attachment points are.  Lower attachment points are better.  You never want to attach to suspension or axles.  
SAFETY IS KEY:
When it comes to hauling your UTV, remember safety is key. Choose the option that's right for you and figure out how to best secure your machine for transport. If you spend the time loading your machine properly you can rest assured you'll spend more time doing what you love – riding.
Do you have any Pro Tips on hauling a UTV? Share them with us.
---
HAVE YOU SIGNED UP TO GET OUR E-NEWSLETTERS, YET?
It's super easy to do and you'll be the first to hear about sales, promotions, upcoming events, more great blog posts like this, plus so much more.
We call it our UTV Canada Ride Tribe and we'd love for you to join hundreds of other riders who have already signed up, too!