Our windshields get extremely dirty – mud, dust, water, bugs, sap – you name it, the trail throws it at you. That's part of the fun of why we ride. But you won't get very far if you can't see where you're going. We need to clean them, often after every ride, without leaving them scratched and hazy. You know your windshield is tough – you've seen it survive repeated lashings from flinging branches and rocks – but did you know your windshield needs to be handled with care when it comes to cleaning. You can do a lot of permanent damage to your windshield if you don't clean it properly. In this blog you will discover how to clean your UTV windshield. Depending on what type of windshield you have, may alter the method & products you use to clean with.
TYPES OF WINDSHIELDS:
Most popular UTV windshields on the market are made from one of three products: glass, acrylic or polycarbonate.
Glass windshields are – you guessed it – made from glass, but there are a few things you need to be aware of when it comes to cleaning glass windshields. Most are actually a laminated glass, or safety glass, that holds together when shattered. Often, they have some form of coating, such as a tinting layer. It's important to know the facts about your windshield so you don't damage the coatings during cleaning.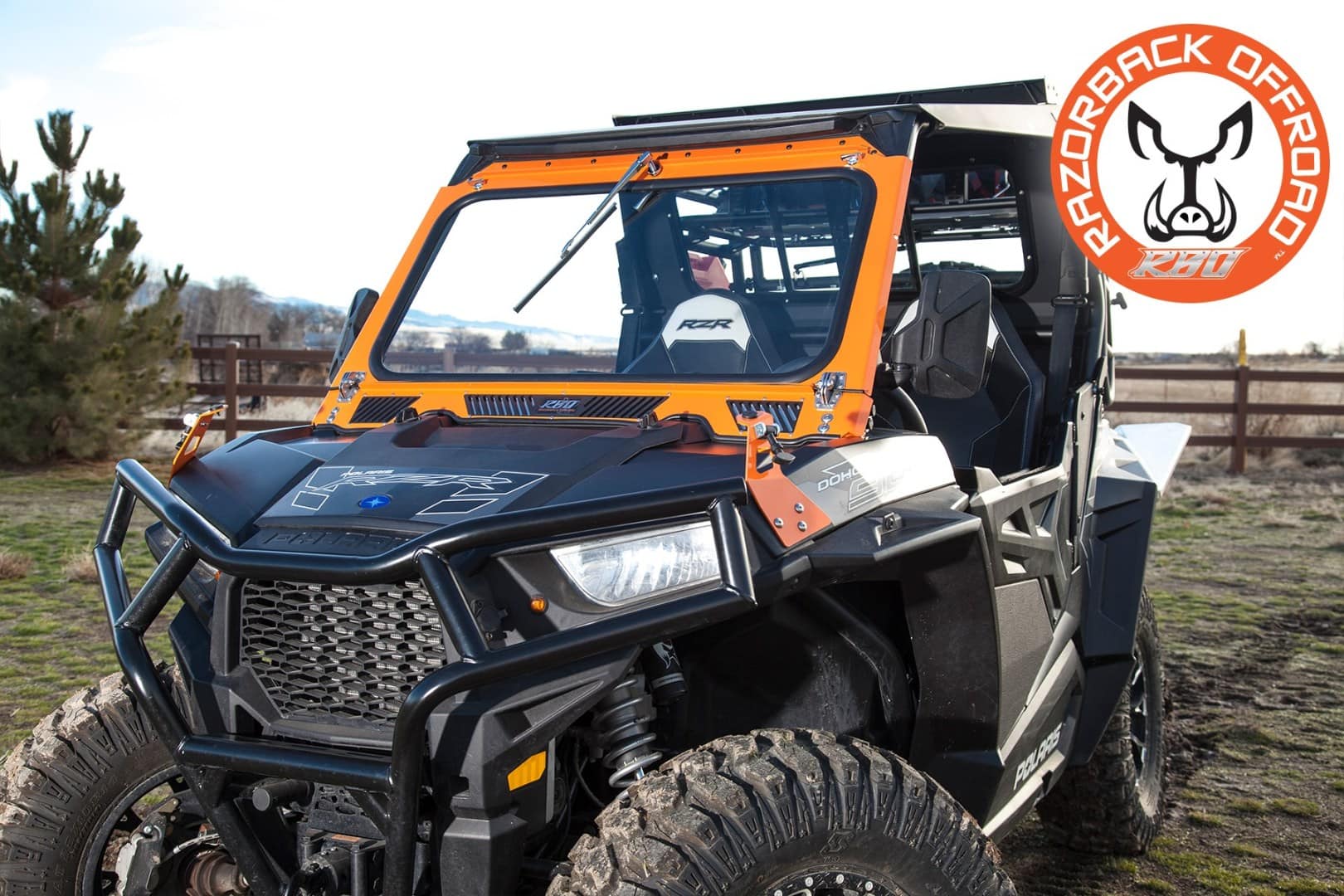 Side note: Super ATV is now offering glass windshields for select Make/Model/Years. Discover one for your machine today.
Acrylic windshields (often referred to as Plexiglass or Lucite) are quite durable and scratch resistant when it comes to mud and debris you encounter on the trail. Acrylic is about 10 times stronger than glass, but don't be fooled into thinking it's indestructible. It stands up well, but a strong solid hit from a rock or branch could scratch it. Most of the time these can be polished out though. You want to be careful when it comes to cleaning Acrylic windshields as improper technique can result in permanent damage like haziness or scratches.
Polycarbonate windshields (like Lexan or Makrolon) are the strongest of the three materials, however they are very easily scratched. We recommend making sure your polycarbonate windshield is hard coated to make it resistant to scratching. Even with this protective coating, polycarbonate windshields are the most fragile to clean.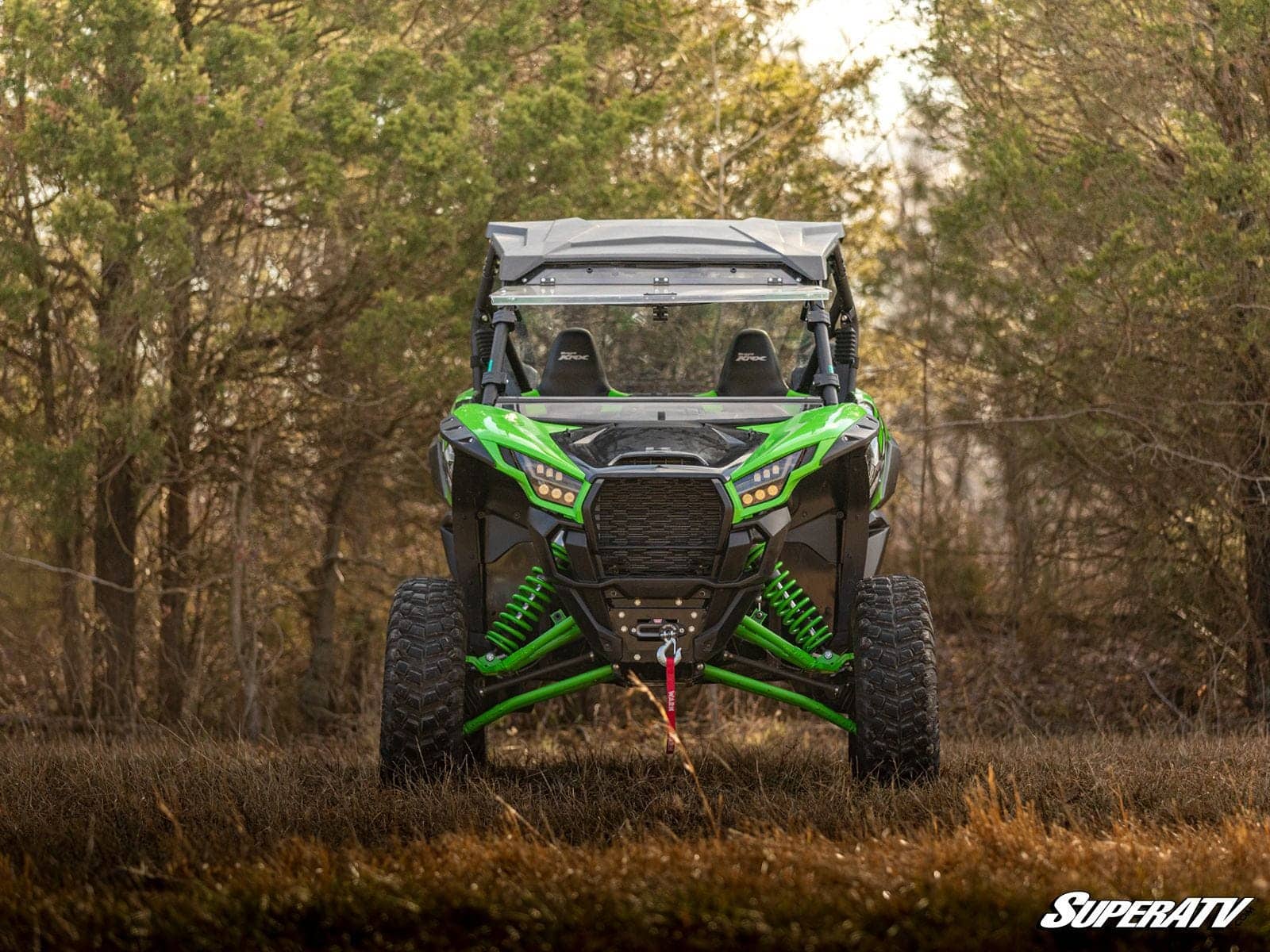 CLEANING YOUR UTV WINDSHIELD:
There are definite dos and don'ts when it comes to cleaning your UTV windshield.
Often what you think you can use does more harm than good. One thing you can do before heading out is prep your acrylic or polycarbonate windshields with a clear plastic polish or wax. This will make it harder for the mud and dirt to stick to the surface.
The best course of action for cleaning any type of windshield is to always use gentle, non-abrasive products. Here we highlight the best practices for the different windshield types.
Glass Windshields
Glass is the easiest to clean, however if you have any form of coating or tinting you need to be careful. We recommend a gentle soap, like dishwashing soap, and water. White distilled vinegar can be mixed with water to break down any oily grime that has built up over time, but you want to make sure to protect your dash with towels to avoid any damage. It may not be necessary with glass windshields but it's still our best practice to use microfibre absorbent cloths to ensure optimal results.
Avoid using abrasive or corrosive materials, scouring pads, powder-based cleaners like baking powder, or cream cleaners like Jif. Even regular glass cleaners like Windex don't often work well on glass windshields as they don't break down the grime well and they often contain ammonia which will remove or damage tinted coatings.
Acrylic Windshields
Acrylic windshields need to be treated gently. Use mild soap and water, along with a microfibre absorbent cloth. If you're not convinced that mild soap and water will get your windshield clean, one of the more popular polycarbonate and acrylic UTV windshield cleaners is Pledge Lemon Enhancing Polish Spray – it doesn't contain alcohol or ammonia, doesn't leave a waxy build-up and it's affordable. Cleaners like Brillianize Cleaner and Polisher can also safely be used to clean the windshield surface and reduce static without scratching.
NEVER use paper towel or cleaners that contain ammonia, or abrasive cleaners, or even a dry cloth as these will permanently damage the surface.
Polycarbonate Windshields
If you have an uncoated polycarbonate windshield you need to be extremely careful – it will scratch very easily. Use a super-soft microfibre cloth and gentle non-abrasive soap. Don't use a dry cloth and rinse off all dust and dirt before you begin cleaning.
Your better option is a coated polycarbonate windshield. It will still scratch easily if not cleaned properly, but it's not nearly as fragile as uncoated polycarbonate. You want to use a gentle, non-abrasive soap, but you need to use a super-soft microfibre cloth. The softness of the cloth is important to prevent scratching.
People mistakenly believe that a polycarbonate surface can be cleaned the same way you would an acrylic one. It's important to note that these are two very different products with different properties – polycarbonate windshields are much harder than acrylic to correct scratches or haziness. If you're just sticking with mild soap and water then the cleaning is pretty similar. You just want to make sure to use a super soft microfibre cloth to avoid scratching. Products like Novus #1 Plastic Polish or Brillianize Cleaner and Polish are often recommended by polycarbonate manufacturers as they will safely clean your windshield when used with a soft damp cloth.
Again, you NEVER want to use paper towel or cleaners that contain ammonia, or abrasive cleaners, or even a dry cloth as these will permanently damage the surface.
STEP BY STEP INSTRUCTIONS:
Damage to your windshield doesn't just come from the cleaning products. It also comes from the way we clean. It's important to follow these simple steps to maintain the longevity of your windshield.
Step 1
Rinse off the windshield: make sure you thoroughly rinse off your windshield before you start cleaning. You want to have enough water pressure to get the caked-on mud and dirt off, so your windshield looks clean. Rubbing gritty dirt all over your windshield will only cause scratching and damage.
Step 2
Wash the windshield with a mild/gentle soap, warm water, and a damp microfibre absorbent cloth. Always wipe horizontally from the middle to the edge – this will remove any leftover dirt and prevent it from being wiped over again causing scratches.
Step 3
Rinse the windshield with clean water to get off all the soap and any remaining dirt. Make sure it is thoroughly clean and free of dirt before you move on to the next step.
Step 4
You want to dry your windshield right away, so spots don't form. Be sure to read this step carefully – there is a right way and wrong way to dry a windshield and the right way tends to defy our logic.

Never use a dry cloth to dry a polycarbonate or acrylic windshield, it will damage it – always use a damp cloth when you dry. Don't wipe in circles – we are not polishing the car so there is no wax-on/wax-off motion needed.

Instead, make sure you wipe in a straight line – you want to wipe horizontally and use a clean section of the cloth each time. It's better to go through a number of cloths making sure you get it right, than trying to navigate the trails with a scratched-up windshield. Take your time here.
CLEANING YOUR WINDSHIELD – ON THE TRAIL:
The reality is that we can't always wait until we're home to clean our windshield. The trail throws a lot of things at us, and that means sometimes we find ourselves having to clean our windshield on the trail. It's a good idea to carry a large squirt bottle filled with a solution of a mild detergent and water. Bring along several soft, absorbent microfibre cloths and enough water for the pre and post rinse. You want to make sure you follow the same steps as you would at home.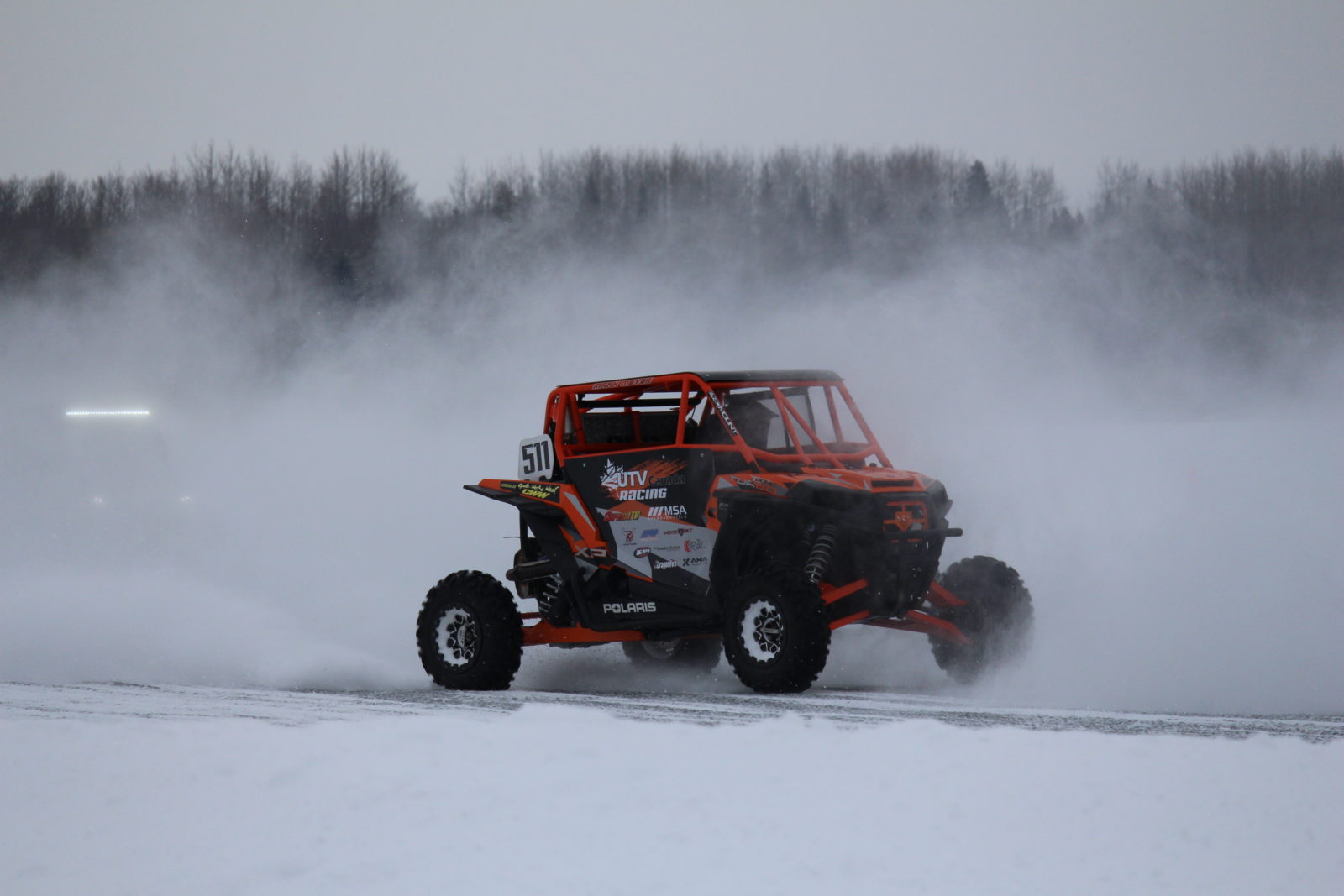 SEEING CLEARLY:
Proper maintenance and care are essential if you want your windshield to hold up over the long term. Let's face it, windshields are an investment. You put a lot of thought and money into picking out the right one – you want it to last. It would really suck if at the end of the day you need to replace your windshield because you didn't take care of it correctly.
So, take the time to clean your windshield properly – it really isn't that hard – and your windshield will repay you with a clear view for years to come.
Do you have any tips and tricks for how to clean a UTV windshield?
Share your cleaning secrets with our riding community by posting this blog on Facebook.
---
HAVE YOU SIGNED UP TO GET OUR E-NEWSLETTERS, YET?
It's super easy to do and you'll be the first to hear about sales, promotions, upcoming events, more great blog posts like this, plus so much more.
We call it our UTV Canada Ride Tribe and we'd love for you to join hundreds of other riders who have already signed up, too!