by Reid Nehring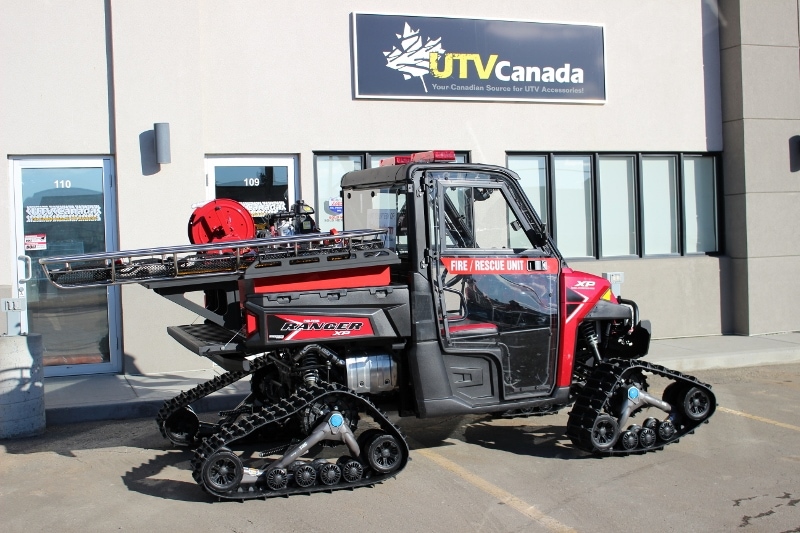 Months before shows like the Edmonton Boat & Sportsmen's Show come together, I lay awake at night thinking to myself 'What can we build next that will be a real super cool Show build?'. You know, the one that everyone just needs to stop and gawk at, whip out the smart phone and start taking pictures of? We've done tons of awesome builds on sport SXS's and now I decided it was time to do something totally different. I come to work the mornings after those sleep deprived nights and bounce ideas off of Colin and Stacy's heads and then try to come up with some plans. This year we had no shortage of new SXS's to work with with the recent release of 4 new and exciting SXS's. Polaris just released the General, Honda the Pioneer 1000, BRP Can-Am the Defender, and Yamaha just released their new exciting YXZ 1000R! Although we had all this new stuff to work with, we decided on a unit that has been on the market for the past 5 years for reasons you will figure out a little later in this story, if you're paying attention. However, I am pleased to say that we did get dressed up versions of 2 out of the 4 new units on the Show floor, but with the Defender and the General just hitting the Dealer's showroom floors, it was hard to get our hands on those particular two units. The problem we always run into is that because most of these units are just out of the box, it's difficult to find a lot of available real cool, unique, quality aftermarket products that we are known for in time for the Show. We did manage to have the Pioneer 1000 thanks to Honda Extreme and the Yamaha YXZ 1000R thanks to T&T Power Sportson the Show floor this year with as many cool products that we could get our hands on. Some of the products were so new that we were literally installing them on the units at the Show, after the Show opened!
Today though I want to tell you about one of my ideas that came together to be one of the real Show Stopper's that we did, the Fire/EMS Rescue build. After convincing Stacy & Colin that I had such a great idea, all I had to do now was to convince one of our Polaris Dealers that my crazy idea would be a totally freakin' awesome build. After a few phone calls and a face to face meeting I managed to convince the good guys, Bruce Fichtner and Steve Seibert from Freedom Powersports, that I didn't have my head stuck in the glue pail. After explaining to Bruce and Steve about the new products that we just picked up and wanted to showcase on the same build, they were in!
We had just taken on the new product line of DFK Cab and were just in the negotiation stages of bring on the QTAC Firefighting & EMS skids and I wanted to marry these two pieces together on a utility vehicle chassis. Mike Kelly from DFK was quick to inform me that one of their best-selling cabs was for the Polaris Ranger 900 XP so after looking over all the details of that cab, I decided that we needed to find a donor for a Ranger 900 XP, thus entering Bruce & Steve from Freedom Powersports. After watching the video that DFK has online and all the other propaganda they had online, I knew this was the right decision. The DFK Cab consists of 3 different components, steel for the roof, glass for the tip-out windshields and most sliding windows and UV-treated, hard coated polycarbonate for the full one-piece door panels. For this unit, most of the component panels click into place and although it took us a little longer to install than we originally thought, we knew that the next one we ever install would be completed in 4 hours or less. No less than 88 pages of color glossy photographs and instructions lead us through the process and guided us to successful completion! I have never seen 88 pages of instructions for anything before in my life so that was kind of cool, eliminating some of the guess work! Having numerous Polaris Dealers inspect this cab at the Sportsman Show and hearing their feedback, I'm going out on a limb to tell you that DFK has a better product than what Polaris has to offer. About 15 point better pricing as well which in this economic climate is nothing to sneeze at! Not only does DFK Cab have product for the Polaris Ranger, but they have cab enclosures now for just about 30 makes and different models and are working on more as we speak. That fact alone was a real deciding factor for us to get on board with DFK Cab, as we can now supply quality cab enclosures for most of the OEM utility vehicles. Nice tight fitting doors and window seals pretty much guarantee that all the outside elements will stay where they belong, outside! Oh yeah, the heater in this bad boy will roast your socks off too! You could probably drive this unit around in winter wearing nothing more than your favorite speedo…… Now that's just an awesome visual eh?
QTAC builds the roughest and toughest fire-fighting skids that are designed specifically for ATV's and UTV's for back-country and off-road use. Faced with another dry spring, due to the lack of snow in many regions, this spring has the potential to be a tough fire season. Although we would never wish for that, we thought it might be prudent of ourselves to hook up with QTAC and introduce their quality product to the Canadian market . This was a tough decision on which skid to showcase as there are 5 different models and configurations to choose from. We, meaning I, chose the QTAC 85EMS-C firefighting unit with the convertible rescue litter platform. For all of you non-EMS guys and gals, a rescue litter is a stretcher. We felt we would get the best bang for our buck with this combination/convertible unit with the fact that you've got 85 gallons of water to address fire suppression, clean up fires and also have the ability to perform off-road EMS capable rescues with this multi-purpose unit. QTAC offers many options in terms of engine size, pump sizes, tank size, hose sizes, foam kits and draft hose kits so each unit can be custom built and tailored to each customer's needs, specifications and requirements. Due to the size and weights of these different skids you need to have the right machine to handle the job, which is another reason we leaned to the Polaris Ranger 900 XP. This is not to say that there aren't other utility vehicles out there that could handle the job, but the Ranger was a good fit considering the DFK cab that I wanted to showcase. It was just a good marriage of the two new products in my mind. I have to thank my friend Ray Senio with the Leduc Fire Department who flanged us up with Scott Ingram at Wholesale Fire & Rescue who supplied us with a brand new shiny stainless steel basket stretcher to complete the display. What Fire/EMS rescue unit doesn't have flashing red lights? Did you know that just not anyone can walk into these specialty supply shops and order red flashing lights? After smooth talking the guys over at Mega-Tech, explaining what we were doing, they agreed to sell us the flashing red lights that we have magnetically mounted to the sturdy DFK roof. The magnetic mounting came in real handy when the unit wouldn't fit into the trailer when we went to move it to the Show. The lights really finished off the build, but just a few more finishing touches were needed. I drove the unit over to DC Signs & Designs here in Leduc with the lights flashing (even though the guys at Mega-Tech told me not to) and had Casey & Patrick do some decaling and signage signifying that this unit had indeed morphed itself into the Fire/EMS rescue type vehicle that it now is.
To complete the cool factor and the ability to drive the unit anywhere to fight fires and save lives, it was decided that this build needed some tracks. We just happened to have a set of tracks that would bolt right onto this Ranger so that was an easy decision. 2.5 hours later, we had a set of Camoplast UTV series tracks installed, now giving this machine access to the worst conditions mother-nature could throw at it. Well, I wasn't quite finished yet, a unit like this needs some HD front & rear bumpers and we called on the guys at Extreme Metal Products to help us out with that. Rick Ott and the guys over at EMP know a thing or two about bumpers that offer superior front and rear end protection of your unit. Not only does the front bumper offer side to side protection but it also gives you a sturdy platform in which to mount your winch. For this build we went with the WARN ProVantage 4500 Lb. winch with synthetic rope which will be more than capable of getting this rig out of trouble in the unlikely event you find it! The WARN ProVantageseries of winches offer the end consumer a limited lifetime mechanical and 3 year electrical warranty, which in my mind is the best warranty in the industry!
I know we achieved what we set out to do by building the coolest looking SXS at the Sportsman Show judging by the traffic we got around this unit. If we had a nickel for every picture that was taken of this unit at the Show we'd be rich! When I see guys taking images of this and sending those images to their friends right there, I know we did something right. We talked to a TON of firefighters and EMS personnel over the weekend as this unit attracted these guys like bees to honey, which was exactly my plan. Our overall plan is to market the QTAC products at the federal, provincial, municipal and corporate segments, and whatever units they decide to put them on will now be up to our Dealers! We can definitely help you out with the rest of it! Good luck guys and happy selling!
Just a quick side note…the Sportsman Show is done and gone and now behind us! Whew!! We just hope that all our hard work pays off! I know that Colin thanked all our participating Dealers in his last blog but I also wanted to thank all of our hard-working staff, friends and family that came together to successfully pull this event off! I had guys that were phoning and volunteering to come down and help with set-up and tear down and believe me, I'm so glad I took them up on their kind offers! Two and a half days to set up and 3 hours to tear it all down, never mind the 4 days we spent working the Show! I really need to thank guys like my brother Randy, my son Tyson, my friends Hans Oelke, Jim Oranchuk, Gerald Kolsteren, Brad Justik, Tyler Geddes and Ron Willert, thank you so much guys, your help is so appreciated in so many ways! In addition to all the set-up and tear down guys, our staff puts a ton of work into this event and I have to thank Stacy, Colin, Mark, Danielle, Tara, Rachelle, Cathy, Monica, Isabelle, John & Shauna for all their work leading up to, during and after the Show is done. Thanks again guys and girls!!!
---
HAVE YOU SIGNED UP TO GET OUR E-NEWSLETTERS, YET?
It's super easy to do and you'll be the first to hear about sales, promotions, upcoming events, more great blog posts like this, plus so much more.
We call it our UTV Canada Ride Tribe and we'd love for you to join hundreds of other riders who have already signed up, too!