Imagine hopping in your vehicle to go to work and when you start it, the air smells of rotten eggs, it's louder than ever before and your check engine light is on. At this point, you know that you're a victim in what's been a string of catalytic converter thefts across the nation. You won't make it to work on time, you'll be down thousands of dollars, and down a vehicle as well until you can get it fixed.
You've probably heard about the issue. Catalytic converter thefts have been steadily increasing throughout the nation. In Montreal, they saw an increase in cases in 2020 with 2,219 reported cases. This is about triple what they saw in 2019. In Vancouver, there were 1,065 reported cases in 2020 before they nearly doubled to 1,953 in 2021. This is a coast-to-coast issue.
Why do thieves want your catalytic converter?
Your catalytic converter is valuable to your car, as it turns harmful gasses such as carbon monoxide, nitric oxide, nitrogen oxide and hydrocarbons into the less harmful carbon dioxide and water vapour.
Your catalytic converter is also valuable to thieves. While the outside of your converter looks simple, the inside is covered with a honeycomb pattern of precious metals including platinum and rhodium.
Both metals are worth a lot and prices are rising. At the time of writing, Rhodium is worth $13,300 USD/ounce, while Platinum is worth about $1043 USD/ounce.
Getting a new catalytic converter is costly. Costs do vary, however in the end you could foot a bill well into the thousands.
We called around to a couple of muffler shops in the area to get quotes for buying and installing a new catalytic converter. For a 2020 Toyota Corolla we were quoted around $2700. The quote for a 2020 GMC Sierra was over $5000. For a Ford with a 6.2L engine, the quote ran over $7500. That's not to mention that your vehicle will be in the garage for some time as well. This can drive the costs even further into the thousands for companies who rely on these vehicles as sources of revenue such as food delivery, parcel carriers, taxi's and more.
Unfortunately, there's never really been a way to stop, or even prevent it.
Until now.
The Catstrap – A prevention device for catalytic converter thefts
What if I told you that one orange strap could save you thousands?
When a thief goes to cut out a catalytic converter, they're expecting an easy job. A job that may only take a minute or two. He's not expecting a bright orange strap with three aircraft grade steel cables. On some systems, he'll even encounter an alarm system that is ear-piercing.
That's what the Catstrap does best, it prevents. When a thief sees everything that's going on under your vehicle, what are the odds he's going to want to keep messing with it? There's probably an easier payout just steps away.
If a thief does decide to take their chances, they're not likely going to get very far. There's 3 aircraft grade steel cables designed to move horizontally through the strap, along with the strokes of the saw, preventing the thief from cutting through.
Installing the Catstrap
Installation is really simple too. You can complete a Catstrap installation in under 30 minutes. When you first install the Catstrap, you will need muffler clamps to hold it in place. You need to purchase these clamps separately, as there's so much variety in the width of the pipes they'll need to fit around.
On the underside of the strap is a black adhesive strip that will bond to the exhaust pipe. It just needs a couple days, and some heat, to activate.
There are multiple sizes of the Catstrap. On bigger, diesel trucks, like on the Ford F-450, you will need a 12' strap. For smaller vehicles, like a Toyota, you need a 7'. There are other specialty options that Catstrap provides to service your commercial needs as well. This includes vehicles such as shipping trucks, food trucks, shuttles, and more. Some vehicles may also have two catalytic converters, unfortunately in that case you will need two Catstrap's.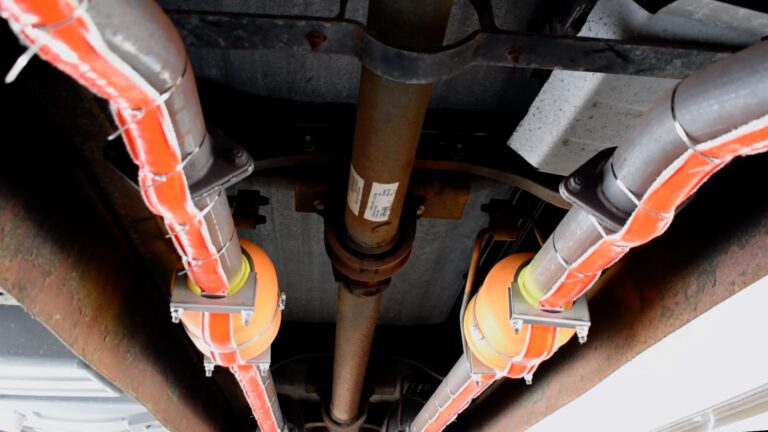 The best way to check which one you need is to simply measure the pipe under your vehicle. Obviously, your converter might only be a foot or two long, but it's important to have that extra protection on either end so the thief can't cut around it. To be fair, a thief could theoretically cut the whole pipe. We'd argue, however, that no thief wants to be carrying a 10 foot pipe with them. They'll be easier to catch, they might not even be able to fit it in their vehicle. And when they bring it into a shop, they're not likely to buy a 10 foot pipe with a big, bright orange strap on it. They'd STILL have to cut through 3 aircraft grade steel cables to get to the converter.
Other ways to prevent a catalytic converter theft
There are other precautions to take that can prevent a catalytic converter theft. In many municipalities, the police have programs such as the Leduc RCMP's "you etch it, we catch it" program. In this program, you can take your vehicle into a participating local business and they will etch the last 8 digits of your VIN number into your catalytic converter free of charge. That way if a thief is caught, police can prove the item is stolen. Now, the criminal is more likely to be held accountable for their actions. Plus, the police can return the stolen property to the owner.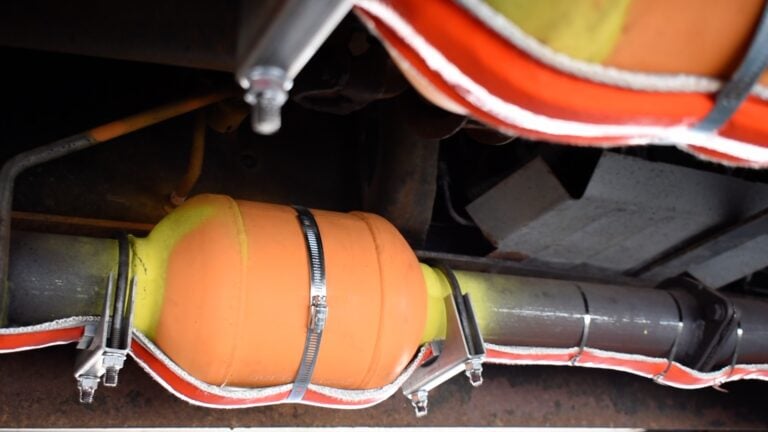 Along with programs like these, the Leduc RCMP also encourages drivers to take these measures to prevent a catalytic converter theft:
Park in well-lit areas and close to building entrances, when possible.
Park in an area that is under video surveillance.
Business owners should secure their vehicles behind locked fences or inside a locked building.
Park your vehicle inside your garage and keep all garage doors shut and locked.
Set your car's alarm to go off when it detects vibration.
Engrave your vehicle identification number (VIN) on the catalytic converter. This may alert a scrap metal dealer that it was stolen and makes it easier for police to identify the owner.
Report to local police, if you see anyone underneath a vehicle or around a resident/business at odd hours of day or night.
Using an example from another industry, according to the National Council for Home Safety and Security, as written about in the New York Times, "homes without alarms are three times as likely to get burglarized."
Applying that theory to the auto industry, you'll likely be much more secure when you equip your vehicle with a Catstrap.
If you want to protect your catalytic converter from thieves, visit our Catstrap page.
---
HAVE YOU SIGNED UP TO GET OUR E-NEWSLETTERS, YET?
It's super easy to do and you'll be the first to hear about sales, promotions, upcoming events, more great blog posts like this, plus so much more.
We call it our UTV Canada Ride Tribe and we'd love for you to join hundreds of other riders who have already signed up, too!