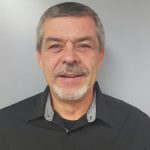 Happy New Year greetings to you all! Well, we made it another year! For those of you that read this message, you will probably be able to claim that as well. We all know it's been a tough slug out in the West with the uncertainty of the economic climate, the fires of this past spring, the wet weather of the fall and very little snow this winter. She's been a tough one no doubt! But borrowing from my last years' message, the phrase by Robert Schuler, "Tough times never last, but tough people do" has never been so true. If you are reading this message you are one of the tough guys, so congratulations! Hang in there; we are going to get through this!
I also closed off last year's message with a phrase by Laura Desmond that goes like this: "The current economic crisis will accelerate success or failure.  The victors will be those who innovate.  The losers will be the change-averse.  The future favours those that are fearless and foresighted." These words have been ringing in our ears for quite some time now and I have adopted this statement as words to live by moving into 2017. The economic crisis has forced us to do a top down analysis of our business and I'm here to tell you that UTV Canada will be making innovative changes on how we do business moving forward!
It appears on many fronts that the old past business traditions could be just that, a thing of the past. We have made the decision to adapt to the changing business world rather than get left behind in our quest for survival.  E-commerce and social media are at the forefront of this change and if you haven't embraced them yet, don't wait for spring!  Another shift we have seen is with the OEMs and their rules of engagement with their dealers. Specifically their increasing demands on accessory sales and the direct competition they are in with their dealers in the retail arena.  As a result, this spring will see UTV Canada expanding to include both wholesale and retail sales.  This shift into retail sales will in no way alter our interactions with our dealers.  As a retailer we will adhere to the MAP pricing program, we will continue to support dealer sales with dealer pricing, shipping incentives, in-house displays, demo programs, trade show support and of course you will continue to have full access to our expert, informed sales reps.  Plus, consumers will still be able to find you on our website using the dealer locator.
Before Christmas, Stacy and I went out and met with several of our dealers to use them as a sounding board for our new business plans and ideas.  The positive feedback and the pledge of continued support that we received from those dealers is appreciated beyond words.  Thanks again guys for your time.  We love working with all of our dealers and want to continue serving you in this great industry.
In everything we do we strive to live by our mantra of being Involved, Informed and Innovative. Thank you for taking the time to read this and more importantly thank you for your past support of UTV Canada.  We wish all of our dealers a better business year ahead and all the best for 2017.
Yours truly,
Reid Nehring
President
UTV Canada Inc.
---
HAVE YOU SIGNED UP TO GET OUR E-NEWSLETTERS, YET?
It's super easy to do and you'll be the first to hear about sales, promotions, upcoming events, more great blog posts like this, plus so much more.
We call it our UTV Canada Ride Tribe and we'd love for you to join hundreds of other riders who have already signed up, too!